Scam Checker Tools
Avoiding Online Scams
In a world where money is necessary for everything, there are people who can do anything and everything for that money. Such people easily conduct scam activities that help them easily get money by fooling people. A scam activity is nothing but a fraud scheme designed to steal your hard earned money, get access to your personal information or cheats you in product/ service.

With advancing technology, scammers are using latest and newer strategies combined with age old tricks to cheat the innocent people for money. The ultimate aim of these crooks is to gain access to personal and important information of individuals that will help them make money. The scam industry has grown over the years where scammers use professional and new strategies to make the innocent people fall prey to their techniques. Scammers fool the public and get them send out their own money for various reasons. There are a number of scam types that have come up over the years where these fraudsters have tried various techniques to fool the public. These scammers make use of technology combined with their notorious tricks that makes the victim easily believe in them. These criminals have experience to tackle people and get out some money from them, by easily gaining their trust and faith. Scammers play havoc with the emotions and beliefs of people and swindle their hard earned money by playing around with their tricks and tactics.
Some common traits of scammers
These fraudsters often contact their victims unexpectedly. They either send out unsolicited emails, post messages, text messages about something interesting and exciting to start a conversation with the victim. Many scammers are also involved in cold calling, approaching the victims in person, approaching via websites, pop-up ads and so on. These scammers often target large number of people for small amounts of money. That way they can make more money from various sources. A common trait found in every scammer is that they pretend to be from overseas. That way the possibility to establish a direct connection is very less. People need to be cautious as once the money is sent overseas, it is very difficult to claim and get back the money. There are certainly loop holes in all the strategies that these fraudsters adopt, which is why many scam cases have been reported. It is just that, it goes out of sight of the common man who easily believes in these scammers. Scammers often speak to their victims in the context of keeping the victims at benefit. This way the victims get easily carried away by the scheme or prospective opportunity placed by the scammer.

Deep rooted Research and surveys have put light to various common traits of these scammers based on the strategy adopted by these scammers. At Ripandscam.com, you can get detailed reports on various types of scam activities that have taken place all over the world.
At Ripandscam, you can get free insights on

Different types of scams - more than 100+ scams with research and examples

There is a list of more than 100 types of scams that are listed on our website. Each of these scam types have detailed descriptions of the strategy the scammer adopts, how to prevent the scam and what to do if you have been scammed. The main aim of Ripandscam is to fight hard against these scammers and make the general public aware of all the latest and on-going scam strategies that the scammers are working on.

How to recognize the scams

There are common traits of scammers and the scam activities mentioned that will help you recognize scams online. Ripandscam runs free online tools to recognize the scam. Our free tools like scam address checker, scam company checker, scam email checker, scam email id checker, scam phone number checker, scam type checker and scam website checker allows the users to recognize whether the entered information is a scam or not. You will also find list of male scammers and female scammers profile with deep rooted information on their scam activities. This helps you easily recognize if the person who has approached you is a fraud or not. Our directories and databases are updated frequently with latest scammer's information that helps the users to best recognize the probability of a scam.

What action to take against scammers

At Ripandscam you will find important sources that will help people in case they have been victims of scams. Various to-do actions are list in each type of scams that will help people know the next step to take in case they have been scammed. There are no possibilities to make good the loss incurred by the innocent individuals, but in many cases the scammers have been identified and taken into custody.

How to avoid scams

Our scam awareness website also gives tips and precautionary measures to take in order to avoid scams. As there are newer strategies been adopted by scammer, it is sometimes very difficult to identify the scam activity. As they say "Prevention is better than cure", Ripandscam gives a list of prevention measures that can be adopted for various types of scams.

Report scam experiences

We as a scam fighting agency believe that each and every scam activity should be reported. Many individuals around the globe believe that reporting the scam can be a shame to their identity. Instead, Ripandscam insists that every scam activity should be reported that will put light to the cruel face of these scammers and scam activities, and people all across the internet should be made aware of these fraudster's activities. Creating awareness is the best way to stop these scams. More the number of people knowing about it, less the scammers will succeed in their cheating skills.

Step ahead and rely on us for the latest information and practical tips on all types of scamming activities. We are successfully operating over a number of years fighting scam tactics, making the people aware of scams and creating scam alert online.
About Ripandscam.com
Ripandscam helps prevent fraudulent acts or tricks of money. The website provides information about various scams with suitable illustrations for people who are scammed through various modes such as; Telephone scam, online scam, cartoon scam, scam archive letters, fake videos. Ripandscam provides precise information about different types of scams that are unheard by innocent people who get deceived quite effortlessly by the fraudsters. It also helps educate people and spreads awareness about various scams.

There are various types of scams which include

Email Scam:




This type of scam is the most commonly used forum by the fraudsters to cheat people ever since the email became widely used.Email Scams are also referred to as Phishing. There are wide options for the scammers to cheat and trick people through emails such as;

i) Spoofing: the senders identity is non traceable as far as this type of scam is concerned. Most of the frauds in this type of scam involve criminal acts.

ii) Data Phishing: Data is misused widely in form of Spoof messages sent using an existing company name and mail address preferably the victim has some financial or other related relationship with the company. The message can be related to victim's bank account which would demand the customer's login information and bank account details or shall be ask to create a new password or similar requests in the phishing email received by the recipient.

iii) Bogus offers: Unsolicited email sent to customers to purchase goods and services. The services or the goods offered will be relatively at a very less cost than the actual cost. The fraudster here intents to grab the financial information by way of selling these goods and services to the customer. The customer accepts the offer due to its greed factor to possess the product or the services at a less cost.





iv) Request for help: A request is sent to the end receiver for some sort of a help with a reward in return. This reward would be in the form of huge sum of money or an expensive product or a rare artifact of a great value.

V) Lottery scam: The victim is often informed that his/her email address and name is selected by a marketing company for gift via email. The victim is asked to provide their bank details and their personal information and further the victim is asked to contact specified department to collect their gift.



Other commonly used scams are

Romance scam: This type of scam originates through the online dating sites and apps. The victim and the fraudster meet through the dating app and personal details are exchanged resulting in fraudulent acts towards the victim.

Dating extortion scam:




The bait is involved into intimate conversations with the fraudster resulting the fraudster blackmailing the victim demanding huge sum of money.

Investment schemes: Investments scams that promise huge rate of returns with little risk are known as investment scams.

Marriage agency scam: fake agencies renderingmatching making services do not connect the victim to real brides/grooms as a result they fabricate the emails and create fake profiles to public to fool them real pictures of people are used from the websites to make it look real and promising to the victim.

Job Scam: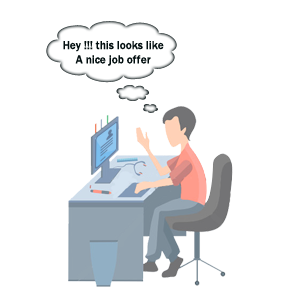 The victim is sent a link to their mail id based on their resume posted in the job search sites. The fraudster sends an email to the victim mentioning the exact job description according to the experience mentioned in the resume and demands certain information about the victim like; the victim's date of birth, full name, social media security number such related information with the intension to buy goods and place online orders in the name of the victim and ship the goods to the associate scammer.

The PayPal scam: This type of scam is very common in buying and selling goods to people in abroad fraudulent emails claiming the victim has been issued a payment to the his/her account, however processing will be complete once the victim has sent the item he/she is selling to the individuals address.

Facebook scam:




The fraudsters can duplicate an individual's facebook account by imitating the email template from facebook which will appear like the individual has official message in an email sent to the victim and in the process a link is asked to be clicked through the email to login to facebook, this way the phishers and conveniently duplicate the victim's account and access it or demand ransom or start asking the victim's friends for money or other information.

Legal scam: some of the best examples of legal scams are the Kerala gold smuggling scandal which involved gold being smuggled illegally from Dubai. This legal scam is alleged to have connection with the Kerala government officials. The next in line is the Fake TRP scam there is a huge manipulation of TRP against the Marathi TV Channels. Legal scams also include a lot of cases of money Laundering.

Modeling scam: These types of scams usually happen in public spots like malls or theatres. The aspiring models are approached by fake agencies for their looks and appearance at these places and are later compelled to pay huge ransom for the services like photography for the portfolio and grooming required for the opportunities ahead of them.

Bank Scam: Happens when an individual tries to obtain money from a bank or related financial institution fraudulently and illegally. Some of the much heard bank frauds includes: the Vijay Mallya to PNB scam of Rs 9000 crore, the 2G spectrum scam- Rs 1,76000 crore and the Hawala scam of $18 million dollars.

Tax scam:




These types of scams includefake charities, threatening the taxpayers for immediate payment; the scammers claim to be from the IRS department (internal revenue service). Tax scams also include social media scams, senior citizen fraud, tax scams also widely happens to non English speakers across the globe and fake payments with a repayment demand.

Gold scam: The scammers smuggle gold from India to order parts of the countries to order to evade Tax.

Fake medical bill scam: Fake medical bills are issued for the medical services that have not taken place or medicines that have not been prescribed or purchased by the victim.Billing of services or medicines that are more than the actual cost in the market, looting individuals by billing same services twice or more in an attempt to be paid twice by the victim.

Cyber scam: It is an act of tarnishing an individual's personal and financial information stored in a computer. This type of fraud is the most common type of fraud. Individuals and organizations must take necessary measures to safeguard their data from the fraudsters.

Bitcoin mining scam: are also known as cloud mining scams and are considered one of the oldest forms of scams. Bitcoin mining is a process of mining was an individual earns crypocurrency without investing any money for it. The Bitcoin miners receive Bitcoin as a reward for completing some verified transactions.Some of the scams include;Ponzi schemes, fake crypocurrencies and malware scams.

Google verification scam: According to this type of scam the fraudster would dodge the verification question or provide a different form of verification process such as a false ID number, the call is most likely to be considered as a false call or a scam. Any employee calling from Google will never be hesitant to provide the end user the verification email from a @google.com domain account.

Social security scam: Social security is a protection that the society provides to individuals to enable and ensure access to healthcare, income security for senior citizens, unemployment, sickness, maternity and loss of breadwinner. A social security never contacts individuals through phone. In case of any threatening calls from the SSO (Social security officer), the call is considered as a scam. AN SSO will never contact or promise any sort of benefits in exchange for any information. In case of any fraudulent act there are security helpline numbers available for every country.

House Rental scam: Some of the most common rental scams include security deposit or first month's rent before signing the lease or the rental agreement, the scammers mention that they are not available in the country when asked to meet also some scammers copy the real rental or real estate listings by changing the email addresses or the contact information and post the same advertisements on another website which is not so known. Other scammers post ads with low rent and make up listings of property that do not exist and lure money from innocent people before to get to know about the non existence of the property.



Steps to avoid Scams/Fraud

• Ignore suspicious email
• Follow email security rules
• Use a scam filter
• Before sharing any personal or financial information discuss with a trusted individual
• While paying money online check for the options carefully before logging in a website
• Never deposit a check and wire money back
• Always sign up for free scam alerts or download scam related apps to get notified while receiving calls from some dangerous source
• Always check for the URL before signing up or logging in any website
• Protect your computer with anti- virus software and firewalls always keep these apps up to date
• Act immediately in case you have accidently provided with any of the personal or financial information to any fraudster or an unidentified source notify your financial partner immediately to block the accounts