Scammers
know no limits when it comes to scamming people out of their money. And yes, they will use your faith to scam yourself. Just because someone says they are devout does not mean they are!
Below are few links to sample the actual emails of this type of scam, along with how to recognize the scam and report them. These are known as
"The Advance Fee Fraud (AFF)"
email is also known as
"419"
after the section of the Nigerian penal law that deals with this type of fraud.
Recent videos and documents
on various well-known scams done in the name of religion have been collected for the purpose of enlightening those who have been falling for such scams. A report about such scams can be made with websites that strive hard to wash out religious scam from the economy.
Let's see some true emails that people had received and how we can spot that they are
scams
. In general, notice the tremendous amount of misspellings, poor grammar and run-on sentences. Even if they weren't scams, would you commit business with someone who writes like this?
List of Religious Scam from all over the world:
The Vatican bank's Dirty Laundering :
Tedeschi, CEO of istituto per ie opera di religione, commonly known as the Vatican bank is under investigation for embezzling $31.7 million through the venerable institution. This is one of the biggest religious scams that is trending in the scam industry that will leave a mark on the scam arena.
Getting Into Heaven, One Dollar At a Time:
Religious scam in on the rise as it attracts scammers to commit fraud in the name of god. But before these fraudsters are gone too far, setting an example of a new trending scam. One such example of religious scam is from Payne and his cohorts, who devised a Ponzi scheme strategy that fooled close to 18000 people to invest in the name of god. A rough estimate of $450 to $500 million was collected, and due to undelivered returns, this scheme came to a halt, exposing the scammer behind this religious fraud.
Jim Bakker's Lifestyles of the Rich and Infamous:
Jim bakker and wife Tammy Fayne Bakker are yet another in the list of people who do scam in the name of religion. Their famous so called club "Praise the Lord" was the means to swipe funds from millions of people. The journey was not too far for these fraudsters when John Wesley opened up secrets about Mr. Bakker in an interview. That's when the whole scam was unfolded.
The Rubes' Rupees:
Every religion in the world is used in the world to scam people. The next in the list of religious scam is from the pilgrimage to Mecca. Faithful Muslims who accumulate money to bid a journey to Mecca are targeted via renting rooms which were either not built or were in a bad condition. Money was swindled as advance payment (also known in affinity fraud / affinity scam) from the elderly. This is a well known example that elderly people are targeted more for religious scams.
Leo the Straight Shooter:
There is variety in the name of religious scam. People believe anything that is said in the name 0of god. Practical and logical thinking just seems to disappear when people are spoken about invisible benefit from the god almighty. Below is a live example where people believed that money could literally wash away their sins. Leo X Pont Max, was the one who insisted that paying money to the church would wash the sins of people.
Harmonious Discord:
Religious scam has become the cunning and crafting way to earn money for scammers. Fraudsters, in the name of religion swindle huge amounts of money from the government too. The next example is from china, where Li Yi also famously known as Li Jun a smart scammer built up a temple with government approval and charged money from innocent people for his teachings.
Sunday Adelaja:
"Sunday Adelaja" a well known popular pastor from Ukraine is another scammer in the name of religion for the past fifteen years. This man compelled his faithful followers to pay a nominal donation for an investment company named "king's capital". It is also suspected that Sunday is a part of a bank in Lagos, Nigeria which holds the kings capital money.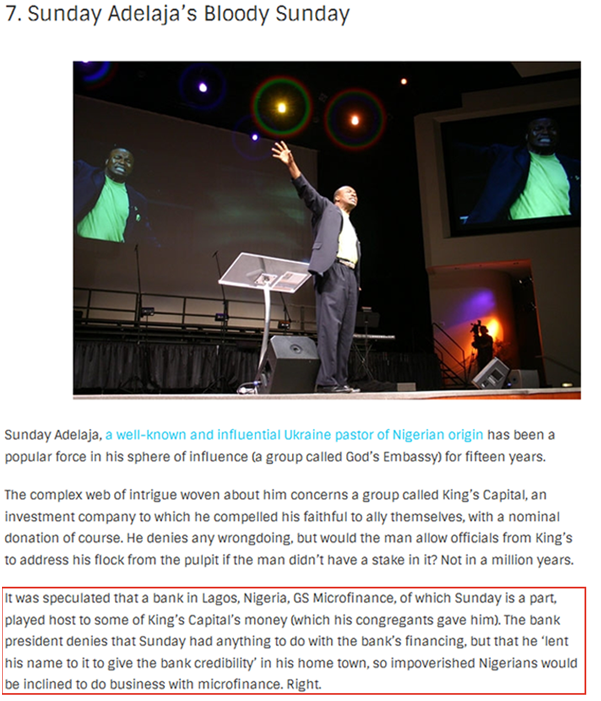 What Happens Here Doesn't Stay Here:
The Oral Roberts University in Tulsa is another case that comes up in the list of religious fraud. The school presidents and the board of regents all together siphoned off more than $1 billion for their own use. These schools and Universities that start as a charitable cause providing education to children in the name of religion, prove to be scammers and fraudsters' back door. Nothing is known until someone among them reveals the truth.
Rich in pocket, Bereft of spirit :
The founder of a renowned church in Brazil, Bishop Edir Macedo and his team of nine other members from the church were accused of embezzling billions of dollars from the church. They used up that money in investments and business.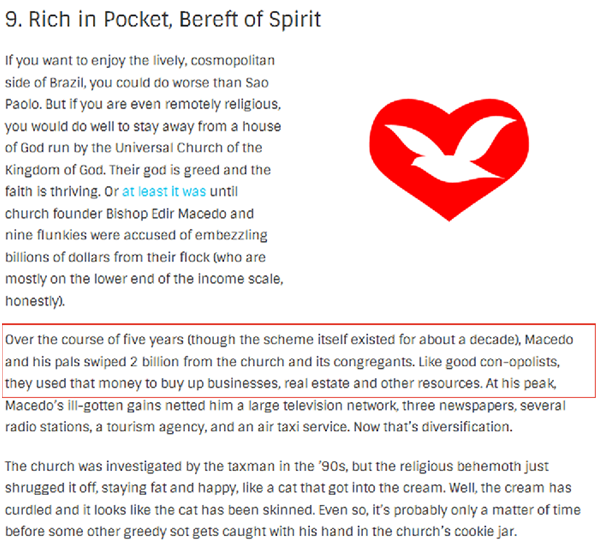 A Case of Mistaken Immunity :
Another renowned religious leader Reverend Sun Myung Moon was investigated for tax evasion and conspiracy to commit fraud. Moon used to set aside money for himself and his family needs. Apart from this, this religious leader maintained church money in a separate account in his name. Moon has also scammed another $1 million which involved selling relics with super natural powers to Japanese widows.
Stamping out Religious Corruption :
Derek Klein of Norfork pretended to be a church employee with desires to collect expensive stuffs like musical instruments, postage stamps and even cars. He precisely made off with $140000 and indulged in gambling
The Nasty Guru :
Santosh Mahadevan, claiming to call himself Swami Amritchaitanya is now popuar in the list of religious scammers He is charged of having induced people to invest in the name of religion. He is also accused for fraud, rape, and possession of narcotics and other list of misdeeds.
Too Big Too Fail :
Purvis, a scammer by profession managed to fool his investors to invest millions of dollars in the name of funding his religious work overseas. But the truth was harder to digest. This religious scammer had built up links with several companies from china, Swiss and Australia with foreign accounts with money that was gathered from theft, bribery and other forms of scams of which the major being religious scam. The scammer now stands guilty of 43 counts of criminal fraud, theft and a list of other charges.
Mormons Bilked by The Golden Rule :
If group faithful believers see God's hand in a wok, they see no reason to investigate the work and blindly end up believing whatever is told. The next in the list of religious scam best describes the above written lines. Henry Jones, Robert Jennings and Arthur Simburg together form a group to swindle gold from innocent people in the name of god and religion. A total of 735 believers had fallen prey to this religious scam scandal. These believers were devout Mormons who regularly interacted with each other and prayed together.
Xenu's Swiss Securities :
There will be a huge number of followers for something that is said by someone who is a well known figure. Reed Slatkin, co-founder of the Atlanta based ISP Earthlink managed to pull in more than 500 people during the 198's into affinity fraud. He fooled every saying the amount was invested in Swiss securities, which actually dint exist. The returns that were promised to the investors never returned. All the people who invested their money believing this personality, ended being bankrupt.
The Secret Behind the BBC's Secret Swami :
The list of religious scammers does not end without mentioning the scammers list from India. Many Indian religious guru's and baba's claim to be messengers of god or incarnation of god themselves. Political support and huge number of blind believers in these spiritual gurus makes it difficult to expose these scammers who lead a comfortable life in the name of religion and swindling money from innocent people.
The famous Radhe Ma :
The famous Radhe Ma, who claims to be the incarnation of goddess radha, is another female religious scammer from India who does fraud and lures people by doing magical tricks that seems to be miracles to fools. Her faithful followers spend thousands of money behind her in order to conduct puja's and bhakti's in her name. She possesses a house worth 5 cr. in Mumbai currently and holds many other assets in her name. She claims to be communicating to god and answers questions that are asked by people. Thousands of followers are spending money behind this which is an evident religious fraud.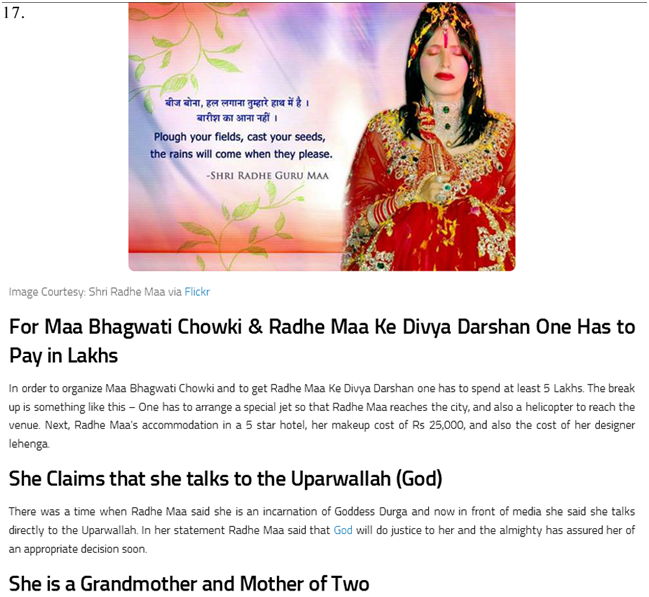 Asaram Bapu in Trouble :
The famous Asaram Bapu, who claims to be a spiritual Hindu leader, holds a list of scams in his name. Currently at the Ahmadabad Central jail, he is accused for many rape cases, land grabbing case, and scam that involves money worth 700 crore. This self proclaimed god-man holds many ashrams in his name with huge number of assets in his name. He has managed to fool innocent people of their money and properties in the name of god and spiritual path.
Chandraswami :
Chandra swami, a Jain by religion who is originally known as Nemi Chand is a controversial Indian Tantrik who claims to be god man. He is been arrested to have done scam in the name of religion. He gained popularity as an astrologer and later entered into religious practices. This famous god man was repeatedly accused of charges which involved violation of financial irregularities. In the year 1996, Chandra swami was accused of defrauding a London-based businessman of $100,000. In 2011, this religious scammer was fined Rs. 9 Crore for violating the foreign exchange regulation Act.
Common Funding Source of Religious Thieves :
The below screenshot describes a list of common religious frauds where Baptists and other members from the church have been involved in using the church money for their personal use. A well known tactic "skimming" (refers to taking cash off the top of the daily receipts of a business) is used in religious scam. People who are involved in counting the church money are suspected to have swindled money into their pockets, which is hard to detect. Many bishops from the church are involved in making Ponzi schemes that lure the people to invest money believing that god will bring returns to their investments. There is no end to the list of scams as every new day a new method is adopted by scammers to fool people and make money. It is in the hands of people themselves to decide and believe.
We are providing the
Spam Checker Tool
for your convenience. Here your can enter the email or the contact number that you suspect to be a scam. This tool checks it with our spam database list and ensure your regarding the email or the phone number is real one or the bogus.
Report scam to United States government-you could file a
complaint about scam
or other crime here.
Related Scams: