Being self-employed not only gives independence from employers, but they are rewarding financially. However, make sure you don't fall prey to business opportunity scams. Whether you are looking to earn some extra income or planning to start a business, make sure it is legitimate. At the same time, know that even legitimate business opportunities involve risk.
Be on your guard with business opportunity schemes that promise to pay a lot for little or no effort. Remember, there are no shortcuts to wealth, making money the genuine way will take time. Don't be taken in by proposals or products asserting to assure you either a job or a certain level of returns.
Using a range of marketing tools, like community magazines, online classifieds, social networking websites and free-to-air or pay television programming (infomercials), flyers, posters and many others, Con artists place the advertisement in the business opportunity section which sometimes can appear in the employment section too.
The scammer will try to tempt you by making crafty statements like:
A business that works!!
Looking for serious profits
Potential to earn executive level pay from home.
No franchise fees, no royalties, fastest growing opportunity to start a business.
Sometimes, scammers try to cover up pyramid schemes as business opportunities; participating in such schemes is illegal in some places and they are not fruitful as a matter of fact. This type of proposal makes money by recruiting people rather than by promoting genuine products or services. Don't be discouraged by the threatening business opportunities, there are several legitimate multi-level marketing opportunities that endow with legal income streams from selling genuine products or services.
Guaranteed returns or lump sum.
You are offered a chance to join a big business group, scheme, or program.
Building wealth in 14 days
Claims like 'this is not a pyramid scheme' or 'this is totally legal'.
Exclusive conferences or seminars promising fast-tracking through the system.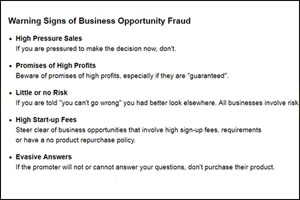 Before you act in response to a business opportunity commercial, ask yourself why someone would offer you this chance without even knowing you. If someone had a genuine and assured way of making big money, why would they tell you about it? Think twice and act smart!
Stay away from opportunities that tell you all this and know what to do, if you are a victim.
If you have received information about a business opportunity that sounds like a scam, or you have responded to an offer and suspect it is a scam, don't hesitate to spread the word to your friends, family, and colleagues to protect them and report it to the local authorities and to the FTC.