What Is a Personal Assistant Scam?
Now the job market is with the rush crowd and reaching the office with traffic issues and tiredness give more stress to people. So, now people like to take work from home jobs with a comfortable feeling at their home. And some are looking for online part time jobs to balance their life. In these scenarios, not only professionalsbut also the students and home makers also seeking online work from home jobs to earn income.
The bad thing is scammers too know this; they take this as an advantage and send a fake offer letter to them. The scammers mostly contact you through email or social sites where you have shared your resume. The scams are now available in all types of online jobs. For which job you apply, you will definitely come across a scam. Not only a data entry work, typing work, or essay writing jobs contain scams but applying for a personal assistant job might be scammed.
Personal Assistant fraudulent employer scam:-
The employer will send you an email with the job description. You receive this mail only if you shared your resume anywhere or applied for this position. Job search is more popular on LinkedIn; so many people trust this site without a second thought. Scammers always target someone who can perform multiple tasks for them and they should be in remote or out of theircity or country. They offer high package details for some duties and mostly they look for part time workers.
The scammers ask the candidates to confirm the job immediately. Once you said okay to their offer, the fraudulent employer will then proceed to ask you for personal information including contact number, bank details, photographs, and others, in order to know your financial status. Never give your personal and financial information to anyone who simply provides you with a job offer. Good jobs don't just come like that.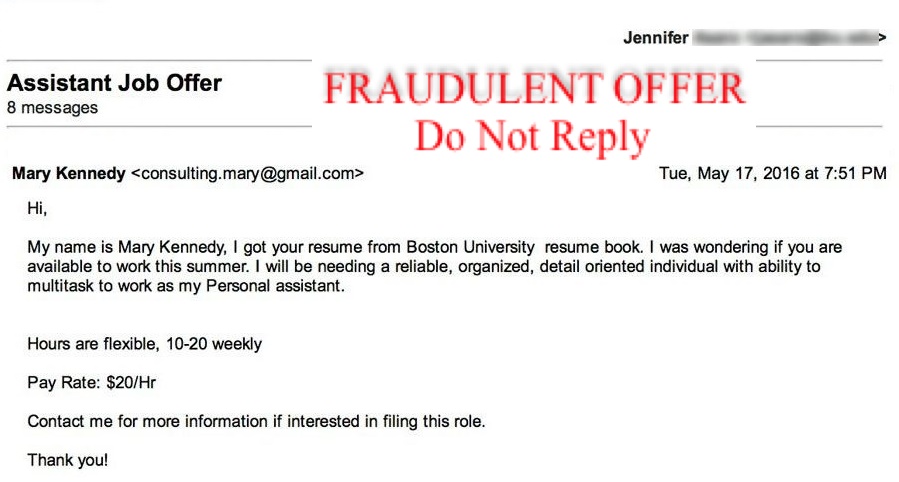 Always do more research and work only for legitimate companies when you are really trying to make money. Working from home personal assistant job seems like the perfect opportunity for employees available in the employment market, but it can be hard to find which listings are true and which ones are scams. You can see a lot of fake posters come in the form of a job wanted list for a personal assistant position.
The words of an employer or company with a reasonable description seem like a very good opportunity, but you should know which is real and which could be a scam. A personal assistant scam appears when an employer offers the opportunity for candidates to transfer money to some business people and other organizations around the world. The opportunity for the job may sound good, that contains a list of works for completion like any other assistant job position.
Find out red flags in personal assistant job:-
If you're a potential employee of the company, then you may run errands or schedule appointments. There are a few key points to consider before accepting a job like personal assistant. You can find out a number of red flags available online which indicates a fake job opportunity. Once you find out a fake job, it will be much easier to searchfor a real job offer.
Let me tell you some of the common factors that you should consider while seeking a job: Firstly, the employer offers you large sums of money. Paying high for an entry level job position immediately shows the red flag. Anyone who offers high salary forjobs like collecting checks for payments or any other work. Just refuse to accept it from an unknown source.
Job offers might involve many countries. In some cases, the fraudulent employer will tell you the job role is forwarding money to companies or banks outside the country. This is not always true, and if your job listing does not hold the name of the employer, then it signs a scam. Any real job offers come from companies or employers with credentials are seeking through a contractor. The job position is absolutely a scam if it does not holds the employer's name or the company's name.
Sometimes fake credentials also take place. If the job listing holds the name of the contact person, you first do a Google search to check if the details really belong to a real person. If your search ends up with errors, then you have a fake offer on your hands. Make a Google search for the name of the contact person in the company. If your results are not the same as your search, then it is a complete scam. The next most important thing to consider is an immediate response.
How to avoid a personal assistant scam?
If he is a real potential employer, then he will require enough time to read over the resume and reach you through phone call or e-mail for an interview. Else if an immediate response for your application with the guarantee of employment, then be careful because you are communicating with the scam. Still, there are many trusted work-from-home opportunities are available online, but they can be a little tricky to find out.

You can immediately see the difference in their application or interview process for a real job. Real companies will always require professional recommendations, testimonials of your previous work, and relevant skills. In an interview, the employer asks for your experience or a resume to know about your qualification. The interview will be conducted either through a phone or video call with HR to determine that the job offer is a real chance for employment.
If your application process is different from this, then likely you are dealing with a scam. If you faced such issues, reach out to experienced employment and ask for help relating to the scam. They might take steps to get your money back. However, this type of scam often leads to a dead-end, and the job seekers are out thousands of dollars. To protect you and your friend circle from such scams, educate yourself more to identify the phony job opportunity and avoid falling into a personal assistant scam.
Related links: