parties those who are interested in company's growth. Though it is interesting to note that most of the people are using internet and mails but it is saddening to note that millions of people are falling prey to scammers those who are operating from unknown destinations. These tricky and smart scammers often use sophisticated methods to hijack the personal and financial information of the innocent victims. People those are planning to sell or buy property should be very careful since scams related to real estate property are becoming increasing popular. Some of the scams related to property are declaring false sales prices, unregulated sale and rent back, land registry fraud and last minute price reduction. There are hundreds of such scams and these are only few from the exhaustive list.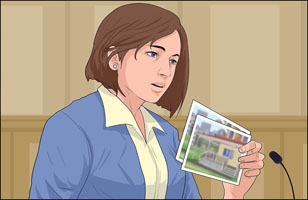 Scams related to bank education or seminars is also becoming sensational news since many people have fallen prey to the scammers. In these types of scams the scammers will pose themselves as self-made billionaires or affluent real estate barons and will invite the rich real estate investors for a private seminar. The team of scammers will deliver a mind blowing speech in front of the prospective clients and request the attendees to invest their money in several interesting schemes that will give them huge returns in the future. The innocent realtors will fall prey to their catchy words and deposit their money. After collecting huge sum from the attendees they will disappear into thin air. Scammers will also act as a famous real estate broker or an intermediary by providing false identities and quote a better price for the property which will be much better than the market value to the seller. Seller will believe the words and innocently transfer the sale deed in the names of the scammers. So, the commoners should exercise maximum caution while dealing with the scammers or strangers. Following guidelines will be of great help to the people who are dealing with properties
Never provide pin, passwords, internet banking details, social security numbers and other such financial details to the unknown person or third parties.
Never reply to the strangers those who are offering discounted rates or higher prices for the property. People have to check and verify their whereabouts and complete identity before dealing further in the matter. But never part the personal and financial details to unknown person or persons.
Request the buyer or seller of the property to communicate his interest over the phone and also try to deal with the client directly.
Request the intermediary or buyer of the property for an eye to eye contact and discussions.
Inform these types of criminal activities to the cyber crime department or departments that are dealing with the scamming activities.
Never reply to any mails even if it is looking appealing and official.
Scamming activities connected to real estate and property is only growing leaps and bounds and the authorities concerned are watching these activities only as mere spectators.