Tutoring Scam:
In recent years, many jobs are getting high value and demand. When we see an online job portal, most job descriptions fill with these categories. Some include article writing and online tutoring. The online tutoring job takes off to an unprecedented level during this COVID-19 Pandemic and worldwide lockdown. Instead of going to a tuition center or coaching institute, students can learn from their place with just the help of mobile phones or laptop computers.
This situation seems beneficial for both students and tutors. Students can sit in one place and learn whatever they want. Similarly, tutors sit in their homes and earn on an hourly basis. For whatever subject a student needs tutoring in or whatever topics, there is a tutor who is specializedandtrained to cover the subjects. There is a site for tutors where they register their name, qualification, subject list, along with the contacts.
The student who is in need of tutoring can reach out to the person on the site. This also led some people to register as fake tutors with no proper qualifications. Education is also one way to take people's money for little or no work. Here you can learn some tricks to spot out tutoring scams and how to protect against scams.
Check whether they are really qualified:-
The online tutoring site is committed in helping students with whatever subject they are struggling with. The online tutoring portal has both real and fake tutors. Differentiating the real and fake tutors in the online portal is a little bit difficult. In general, if you want to become a tutor first you have to sign up for the account and use their services to receive students.
The tutor wants to upload their experience details and mandatory certificates for verification. If a person signs up as a tutor and he has a few years of experience in a particular subject or all subjects, then he will get the contact of the student searching for a tutor for the same subjects. In some cases, the scammers register with fake identities and write fake descriptions to get student's contacts and to collect money from them.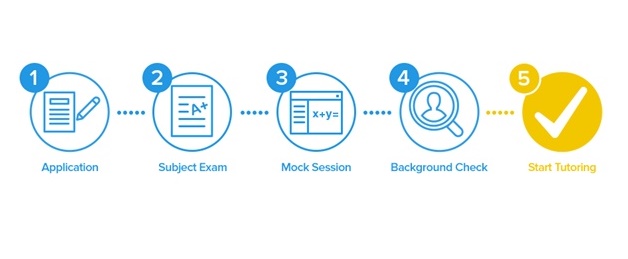 To find out the real tutor, check the tutors' page and read their reviews. Take a look at the top five reviews about their activities and now decide what you want to do. And it is true that not all tutors have 5 stars also, tutors having 5 stars may not legitimate. Go through the reviews on their page if it appears to be consistently bad, then definitely it might be a scam.
To check whether the tutoring is legitimate or not, there are some independent sites that gather reviews and testimonials bout a particular site. The independent websites collect all the inputs about the organization and give a rating based on the reviews. These independent can give you a clear idea and helps to make a good decision.
Some tricks to spot out tutoring scams:-
If the independent site has 5 stars for the tutoring site, then you can go ahead. Or in case if the tutoring site you have found has only one star and contains bad reviews, then you should clearly be understood that it is not legitimate. If you want to clarify more, it is not wrong to make a phone call to the tutoring service and ask questions. If the tutoring service is genuine, then they are always ready to support and they offer full support in many different ways.
There should be a person to assist you either in the phone call, e-mail, or a live chat. Responding immediately to your queries and working to sort out that will give you a clear understanding of the tutoring service. Asking more questions will save you from a lot of trouble. Also, ask one or two times yourself that the money you are going to spend for the class is worthy or not. If you get yes as an answer from the bottom of your heart, then it is absolutely fine to go with the idea.
If the online business even a small call center need tutors, they should conduct more round of interviews and ask questions related to their experience. Based on the answers, the tutor can reach students. If the company is legitimate, then it contains all trusted tutors. Some persons might also pay some money to the service provider to register as a tutor and make his page look professional and layered. If you find a website with a red flag, just avoid that and communicate with scammers for a clear clarification.
Good tutors always come with good tools:
If you are looking for an online tutor, take a look at some tutoring sites and find out how they are working. This is one of the ways to find out how professionally the tutoring service is working. Call the support team and ask questions about their working environment and procedure. Moreover, make sure what software they are using to teach students online. Just remember, professional service providers always use perfect software with good resources.
Virtual classrooms should be easy for us and most importantly they have good reputations. If you find out that the tutoring services are using free software for teaching, then simply move on because that is not trustable. Some might also use WhatsApp video conferencing for online tutoring; this is also not a trusted one.
How to protect against scams:-
Some tutoring sites ask you to pay some money as a refundable payment for registration and some documentation. Once you paid for their service, then you are probably not going to get in back from them and they won't take any classes. You should make confirmation if the tutoring service provides you with all the instructions but doesn't ask you any pre-payment option.
Always be careful when anyone demands full payment upfront. This will never work at any time. If you come across such a scenario, let your family and friends know about this online tutoring scam. Share it on social media to help everyone and also file complaints against the online tutoring scammer to the Federal Trade Commission.
Related links: