What is Government Job Scam?
Government jobs are a dream jobs for many people. Teenagers start preparing for government jobs from their college days. The government offers a job only after lots of interviews and written exams. There are many candidates applying for government jobs but only a few of them get the jobs. The rest of them either prepare for the re-examination process or prepare for any other competitive examination.
People struggle hard to get a government job for themselves. Here is where some fraudsters act as a messiah for the government job seeking candidates. They are the devil who destroying many people's lives for money. If you are looking for any government job, then, of course, you will visit government websites, you research about it, and you apply online for government job interviews or examinations.

By your search history activity, the fraudster will notice you and target you to destroy your dream. You have come across many emails from unknown mail addresses regarding to provide government jobs without any application or discussion, but the fact is Government never sends you any openings details or exam details through mail. They always use their official website as the only source. If you want to know any information about the current openings or application form, you can directly get this from the official website.
Beware of government jobs scams:-
Getting a Government Jobs is a very challenging work. Therefore, these jobs have got respectability in society. Job seekers are always searching for the latest government job wanted list and other information in websites. Since getting a Government Job is not that easy, you have to put more effort and give more preparation to get a job in Government.
But as the number of vacancies in Government jobs is comparatively less than the people who desire to get a government job, there is a huge competition in this field.Desperation leads to some people to do anything to get a government job, because people look for government jobs for higher income and to place a permanent job.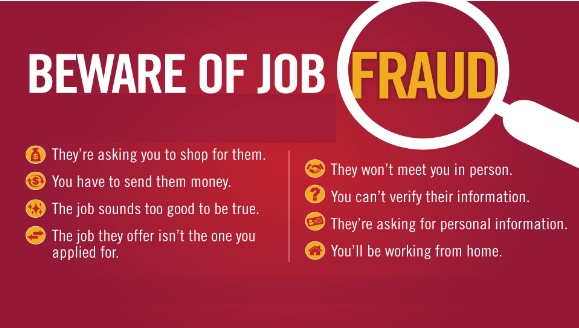 Attracts people to join the Government job. Seeing this desire in the job seekers, the fraudsters attract candidates with their fake posters and information in the name of giving those candidates hopes and assurance. As you can see that there are several ways to make someone a fool. Job seekers need to be fully aware of these tricks and save themselves from further scamming legal prosecution and monetary losses.
Biggest scams for government job recruitment scams:
In this Government Job scam, the fraudulent employers create websites with the copied writing of the Government website. The copied website also contains the same logo as Government sites and has the same formatting design. The fraudster website also looks genuine which makes the job seekers to enter the website. But in some cases, the website design of the fraudster looks different from the Government website; where you find easily differentiate the fraudster portal.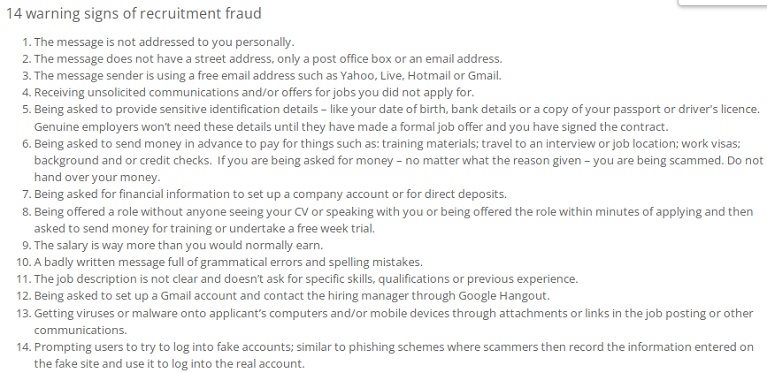 The fake recruiter will contact the prospective applicant to ask them for some money so that he can get the specific candidate selected for a particular job position. Sometimes, the fraudulent employer will publish fake ads on this site and demand money with the form applied by the prospective candidate as the norm in genuine Government job ads. Moreover, the fraudster moves one step forward and acts more professionally.
For example, the fraudster makes a list and mentions the candidate's name in the selected candidate's list on his copied website and asks money to offer a joining letter. To avoid getting scammed, job seekers are advised to make sure that the ads posted contains real information before applying for any particular Government job position. As you know that a genuine Government website has certain patterns of the naming convention for their official websites.
What are the scams for government job recruitment happen?
In India, the Government websites usually come with the suffix .gov.in or .nic.in. If you are preparing for an Indian Government job exams, you can check whether the websites contain this suffix. Likewise, there are certain domain names for all Government websites and they are used only for government portals. To apply for the job, you should check the domain name of the organization. But sometimes, the fraudster will create a fake website with a matching domain name.
The fraudulent employer also put more effort to give their website a more genuine look. Always see how the website and their e-mail address look. Verifying the originality of the portal before applying for the Government job position is very much important. Like the e-mail address, you should also verify the web address of the employer. As mentioned earlier, then the employer or Government service never sends you any information or request through e-mail or messages. They always post all legal information only on their official website. If you want to know any details, just visit their website.
Government jobs scam exposed:
You should also check the details of a website like its address, name, logo, etc. by visiting it. If it is not a government web address, then it will be some private office web address. Just remember any public sector and Government companies never send job offers directly to individual persons because they work within the rules of the Government. Also, Government sectors always publish their wanted lists in all leading news articles and employment pages.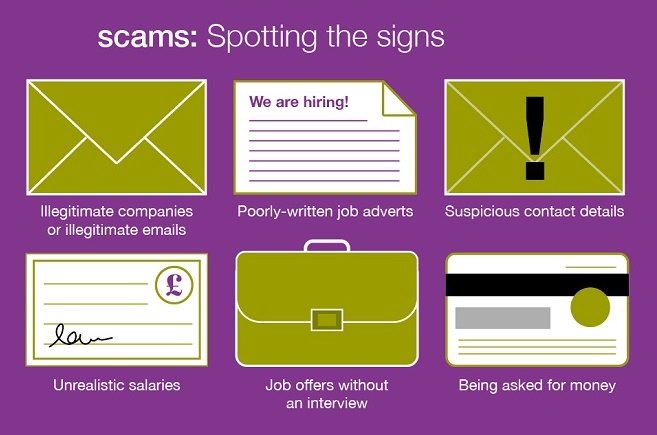 Sometimes, the sectors also send you sample recruitment examinations papers before 2 or 3 days of the examination. In some cases, the fraudsters also send you some sample solved questions and answers for preparation, but they ask for some money to download the papers or ask for the registration fee to view all details about the recent news. Several reports in the newspapers publish fake news to corrupt the Government sectors.
There are many criminal gangs that work to corrupt government officials to extort money from the candidates through this method. They also ask for thousands to lakhs of the amount in return for these sample examination papers. Some questions and papers are genuine while some are not. If you agree to pay the money, then you cannot ask for a refund if the paper isa bogus.
Related links: