without your final approval, by this you can be caught up with invite scams. The standard groups allow members to request their connections and approve requests to join, so when you have groups, ensure that you every single member of the group. In either case, scammers send fraudulent emails stating that they'd like to add you to their professional network on LinkedIn, when you click on the confirm button, it takes you to a malicious website that downloads malware onto your computer. Beware of the fake profiles and email warning scams.
LinkedIn is a networking tool that aims to connect the world's professionals to make them more productive and successful, but that doesn't prevent scam artists from using the viewpoint of romance as a lure to spool in vulnerable users.
Below is the screenshot of a LinkedIn user receiving a fake romantic note in her LinkedIn inbox; the message read as follows:
One should always be aware of everything that's happening in order to stay away from hassles that will steal not only your money, but also your life's happiness and peace.
This is yet another old trick, but in a sophisticated form. It offers you the false promise of an inheritance to ploy you into parting with your wealth or sharing your bank or credit card details.
The con artist imitating to be a lawyer, banker or any other foreign official claims that you've inherited millions of dollars from a deceased relative and that the deceased left no other beneficiaries, they would say you are legally entitled to claim the inheritance. They will go to any extent to persuade you that a fortune awaits if you follow their instructions which demand sensitive details of yours. By following their instructions, you will not only lose money but also leave yourself open to identity theft.
Claiming to be a job recruiter, not all job offers that you receive through LinkedIn are true. Outlining the details of a high-paying job, scammers try to come up with a job offer which can be performed from anywhere. They commonly say that the offer is 100% legitimate in order to tone down user's disbelief, however when the payday comes around, they evade and no paycheck can be found. So, next time when you receive a job offer through LinkedIn, it is imperative that you exercise caution. You can find real paying work in reputable job portals.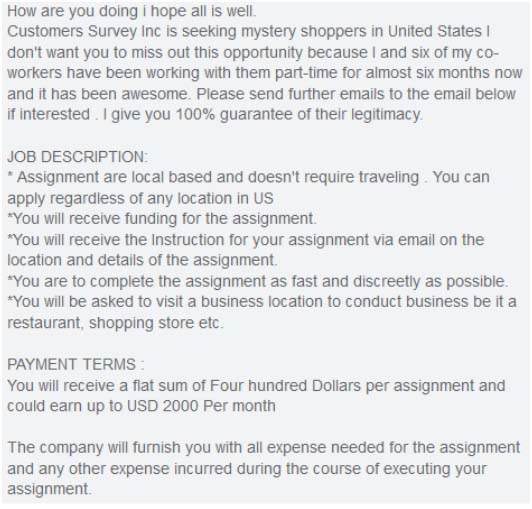 A message asking personal details and that asks you to act immediately.
Bad spelling, grammar, and that aren't addressed to you personally.
Messages asking you to open an attachment to install software's.
Tighten your security and if you suspect that you've received a spam message, you can avoid this malware infection by not clicking on links. Instead, go to linkedin.com using your web browser's address bar and check contact and message details there. If you've been the victim of LinkedIn scam, it is imperative to report it to your local law enforcement.