Direct Debit Scams
Banking is advancing with the growth and development in technology. Online transfers, internet banking is common to every common man. Even though transactions are guaranteed with highly secured mechanisms, there is still room that scammers find to swindle money.

What are direct debits?
Direct debits are transactions that are set up when a correct combination of sort code and the account number is entered for a particular account. No further verification is required to set up a direct debit. When a direct debit is set up with an account, the amount is deducted and credited in the requested source without any further verification. Direct debits are automated that electronically transfer the bank details of the user. Paperless direct debits authorize payments without any signature. There is very little security involved in initiating direct debits.

How is a direct debit set up?
A direct debit is easily set up if anyone has the following details:
• Your account number
• Your account name
• Your sort out code
• Address of the bank
What happens in a direct debit scam?
Direct debit is a guarantee that should not lose out financially if any mistakes are made on the system. But what happens when someone tries to scam?
User's notice that direct debit is set up with their account without their knowledge, without they having set up on their own. Many such cases are reported by reputed banks that are considering these issues on high alert in order to meet the client requirements.
Direct debit scam happens when a bank account receives a credit. The credit can be as small as one cent. Usually this amount is credited to the target bank account with a six digit code. If the bank confirms this credit, it allows direct debits to be deducted from that bank account. Scammers use phony techniques to hack the internet banking details to access the code that is required to debit funds from the user's account.
A number of cases have been reported where users report the direct debits that are being initiated without their knowledge.
Below is one such example from a HSBC bank customer who noticed direct debits set up on his account without his knowledge
It happened twice, which is when he realized that someone had set up a direct debit on his account without his knowledge.

Tips to beware of direct debit scam:
It is always a best practice to cross check on every transaction happening from your bank account.
Never agree to allow direct debits to your customer's accounts too.
Any small credit to your account from any unknown source should be cross checked twice. It is only in such places where direct debit scams are initiated by fraudsters.
Demand for regular statements from your bank. This will help you maintain a clear record of every incoming and outgoing transaction from your account.
The direct debit scam is another fraudulent activity done by scammers. Users need to keep themselves updated of such money swindling techniques done by scammers.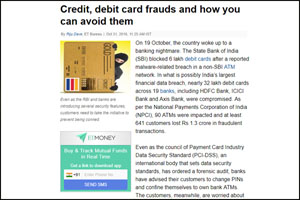 Related Scams: