Holiday and Travel Scams
Beware of holiday and travel scams
Summer is the busiest time for travel agencies since many people plan to take off from their hectic work and go on a vacation. Once we plan a holiday trip, the very first step we do is that searching for a travel agency that offers attractive holiday packages for a very reasonable price. Believe it or not, the moment you search for holiday packages or respond to a survey online, you are under the vicinity of unscrupulous scammers, who are ready to pull your hard earned money. It is mandatory to check the credibility of your travel agency before heading to a trip, to stay away from the fraudulent travel companies and other holiday scams.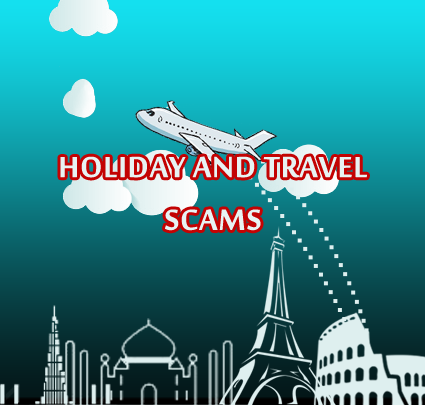 More Detailed Report On Travel Prize Scam
Travel scam- A big network
Scammers often approach you with claims saying that you have won travel vouchers that comprise heavily discounted holiday accommodation and airfares to popular tourist destinations such as Indonesia, Thailand, Florida and the Bahamas. If you decide to take up the offer, they will first get your credit card, bank and personal details before sending the vouchers. Once you provide all details, they will quickly withdraw money from your account and wind up. In most cases, the victims are given duplicate vouchers to make sure that the customers do not doubt the deal till they settle in a safer place. The aim of this network is not only to pull your money, but also to use your personal details and make you the victim of identity theft.
Ways to keep holiday and travel scams at bay :
Do research, before you choose
If you come across any appealing holiday deals, do not hesitate to call the holiday accommodation provider directly, instead of seeking the help of third party. Spend some time in checking the online reviews of the travel company that you have decided to make a business deal. Also, make sure it is accredited by AFTA (American Federation of Travel Agents). This way, you can keep distance from the travel scammers. br> br>
More Detailed Report On Travel Prize Scam
Never reveal your bank details
When it comes to holiday scams, the way you make your payment matters a lot. Whether you pay through cheque, wire transfers or online transfers never reveal your bank details. Use secure payment method such as credit card since you can seek the charge back, if you are not happy with your deal. Just in case, after providing the bank details you think that you have scammed, act smart and contact your bank or financial institutions immediately without letting the holiday scammers to make use of it.
More Detailed Report On Travel Prize Scam
Read the terms and conditions of the travel promoters clearly
If you are opting for any sports related tour package, ensure that the package consists of hotel rooms, food, airfare and the game tickets. During last Olympics, many people were ripped off by the illegitimate travel promoters, who sent the vouchers for travel and accommodation but not the game tickets, making many to see the event from their hotel rooms. So, before signing any discounted travel package, it is wise enough to read the terms and conditions of the agency twice.

By sticking to the above tips, you would surely avoid the holiday and travel scams that make you stay stranded overseas with empty pockets.
Holiday and travel is another niche area that is attacked by scammers. For the rich, holiday and travel is too frequent and promising. The scammers take advantage of this and try to bring in their awful tactics in order to swindle money out from the innocent people. The scam industry is huge, growing in a faster pace than any man can think of. There are many unknown tactics that scammers use in this niche, but some of the latest and common forms of holiday and travel scams are:
Common forms of holiday scams to watch out for:
Timeshares and Holiday Clubs – People are made to fall for the scam by offering free holiday packages, stay in five star and seven star hotels, experience adventures in exotic places at discounted rates. They are made to attend seminars where they make appealing presentations about their offer and make people dupe into buying a fraudulent timeshare.
Holiday Accommodation – This is the most popular form of holiday scam which consists of developing fake websites, manipulating legitimate accounts, posting fake advertisements on websites and social media.
Airline Tickets – The customer is victimized by giving cheap offers on booking to and fro flights, in return to which the customer receives a fake ticket or pays for a ticket that is and can never be issued.
Example of Airline Scam - In 2014, a newly wedded couple from North Yorkshire planned a Valentine's weekend away to Loch Ness were scammed for 1000 pounds after realizing their airline ticket booking from a website was run by a scammer.
More Detailed Report On Travel Prize Scam
Sports and Religious trips – Owing to limited availability and higher prices of tickets, sports and religious trips are most common spots for criminals. According to the reports, pilgrims bore heavy losses in the religious trip to Hajj in Saudi Arabia. Period of Commonwealth Games and World Cup Games are often targeted by the scam artists. According to a prediction made by NFIB, 2016's biggest target will be European Football Championships in France and the Olympics in Rio de Janeiro.
Warning signs to watch out for to avoid holiday and travel scams:
Warning Sign 1 – Be wary when you are offered with reasonably cheaper rates than what their competitors are offering. Do internet search by checking their websites, check on various travel and holiday related forums and most importantly check their reviews and references. In case of legitimate holiday packages, only a substantial amount is asked for confirmation of booking and the remaining is asked for payment few days before the trip. Therefore, if anybody asks you to pay the whole bill upfront, be sure it is a scam.
Warning Sign 2 – Websites having low resolution and fuzzy logos are often treated as red light to do some research before proceeding towards payment. Fraudsters tend to hack into legitimate holiday accommodation websites or create a fake website that looks legitimate.
Warning Sign 3 – When the only payment option provided is bank transfer. Because it is virtually impossible to get your money back if the scammer/agent disappears or goes out of the business.
According to a report released in 2014 by the City of London Police National Fraud Intelligence, £7m is the estimated amount people have lost to holiday fraud with £2.2m in online scams. However, the average loss an individual incurred was £889, and one individual lost £62,000 in a fraud relating to timeshare.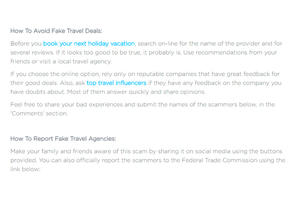 Types of travel scams:
Here are few Travel scams people have been victims of:
Bogus Police Officers Travel Scam :
It is not uncommon to a victim fake police officers accusing travelers of crimes not committed or demanding them to hand over the wallet and personal belongings for verification purpose. In this way they not only have access to your money but also you're ID which can be used to commit identity theft. Other trick used involves a bystander who will ask a traveler to look after their luggage while they finish their other work. As soon as the bystander walks away, fake cops walk in and insist on checking the luggage. While checking, they find some illegal items in the luggage and demand huge amount to avoid arrest. In such cases, do not panic and ask them to take you to a nearest police station and settle the deal.
ID theft in Travel Scam :
This usually happens in the form of ATMs stealing credit cards, using free WiFi in tourist spots where personal information is stolen, taking pictures of credit cards while paying for something, tourist destinations that are haven for pickpockets and so on. To avoid ID theft, carry only the necessary things while traveling, use WiFi from trustworthy sources and use safer ATMs.
Distraction theft Travel Scam :
The most common travel scam is distraction theft. A gang of thieves or a thief will distract you with a bump or shove or ask for directions or offer some help and then proceed to steal your valuables from luggage or steal your wallet or a purse. To avoid distraction theft, spread to belongings, never keep your credit card and passport in one place and wear pick pocket proof clothing.
Phony petitions Travel Scam :
Coming across a child who pretends to be infected with some rare disease or is disabled and asking you sign a petition is a clear sign of travel scam. It is a scam because later it will force you to make a promised donation that document serving as a proof. The best to avoid this is by not signing anything at all or read terms and conditions carefully before signing in.
Counterfeit money Travel Scam :
Scammers hand over counterfeit currencies to tourists in the form of change and at times give incorrect change, because tourists may not know the how exactly the local currencies will look. To stop this from happening to you, be aware of the local currencies and bills of the places you visit.
Airport Taxis Travel Scam :
Taxi drivers may try to use bad tricks to cash out money from your pocket. Their tricks may start from driving around various locations and asking for an increased rate to overcharging after a certain distance. Only way to avoid from being looted is set the rate before starting the journey and not to pay until you have reached your desired location. When in doubt, check the license of the driver before you set for your journey.
More Detailed Report On Travel Prize Scam
Types of holiday scams:
Here are few holiday scams people have been victims of:
Phishing Holiday Scam :
Holiday season is the most vulnerable time of the year when the scammers are active hoping to cash out people with their increasingly sophisticated tricks. You are flooded with emails from merchandise websites offering discounted products, coupons and gift vouchers. These emails are linked to scammer's website that download malware in your devices and steal information from your computer and make you a victim of identity theft. To avoid being a victim, when in doubt, directly go to the merchandise's legitimate website and do not open or click on the email.
Malicious links Holiday Scam :
Fake online advertisements, e-cards and spam attachments linking to phony websites developed by the scammer. Clicking on these will enable the scammer to attack your devices and get your personal details, through which you may receive fake notifications of package problems during holidays. Protect yourself by not clicking on the links and emails about package delivery problems. Just in case for checking purpose, go to the website where you have placed an order and track your order.
Vacation Home Rental Holiday Scam :
There are many websites that provide vacation homes on rental basis. It is very easy for a scammer to enter the listings on vacation websites. One needs to be careful while booking a vacation home through such listings. Check out their pricing, their payment mode and their location details. Fraudulent websites will provide you with only one payment option – bank transfer.
Contest Holiday Scam :
Contest scam is amongst the most successful scams throughout the year and people tend to fall more during the holidays with holiday related phony lotteries. Wisely structured emails are formed and sent to prospective victims stating they have won a lottery they never entered and have to pay some taxes or fees to claim the prize. Remember, you can never win a lottery you never entered. And in case of a legitimate lottery, the taxes or fees are deducted from your prize.
Case studies:
Holiday fraud takes many forms but the result is always the same for the victims; financial loss and disappointment. Following are few case studies of victims of holiday and travel scams:
1. Mentioned below is a typical scenario experienced in holiday scam. Here, a teacher is a victim who books a Spanish apartment through a villa rental website and pays by bank transfer. On reaching the location, he finds the apartment is locked and on communication with the original owner finds that his booking queries and payment never reached the original owner. Since he made the payment online, getting back his money was not possible.
2. Next, is a scenario where several groups in UK planned to travel to Mecca for Hajj, the annual religious pilgrimage? Travel bookings were made online to a tour operator who claimed to be specializing in Hajj packages. Later, when the pre-meetings were cancelled, they came to know about its non-existence and successful tactic used by the scammer in swindling money ranging from 1,100 to 14,000 pounds.
3. Edgar received a refund of $100 from a cruise company whose booking was made through fraudulent travel agent.
4. Valerie received compensation of 3,000 pounds from Thomson Holidays for cancelling her booking in the last minute without her permission.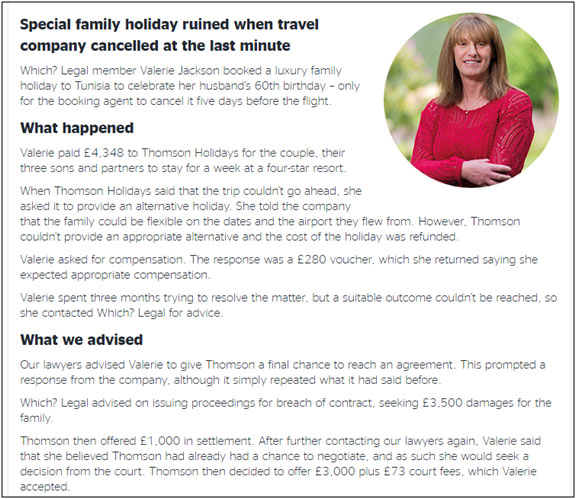 5. Couple wins 1,162 pounds in cruise confusion as compensation from Thomas Cook on cancellation of their holiday on cruise.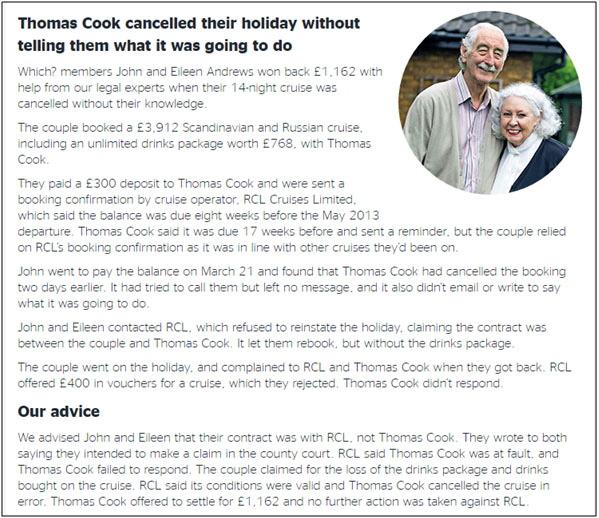 6. Dream trip of a couple with their grandchildren to France turned into nightmare due to issues in the villa.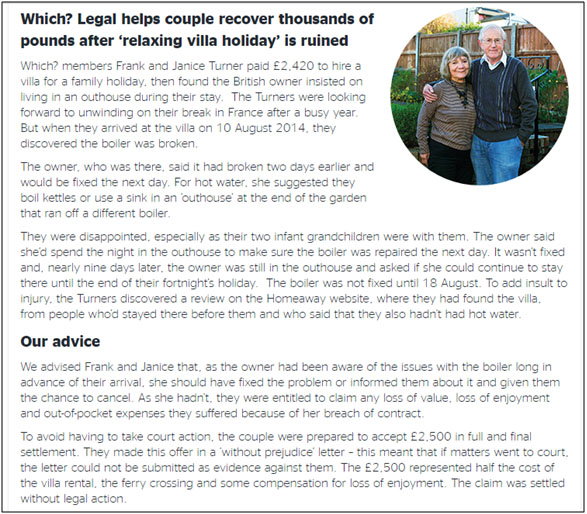 7. The Co-op Travel Agency had to agree to pay 302 pounds to Thomson Gold Hotel on making booking amendments.
More Detailed Report On Travel Prize Scam
Related Scams: