How to avoid Mistakes at Work?
In every work, we will make many mistakes. Mistakes are common at all work. Most of the times, we will make mistakes unintentionally. When we work too much or more than our required target, we make inevitable mistakes. Even if you are a perfectionist and diligent worker still, silly inaccuracies and errors will happen.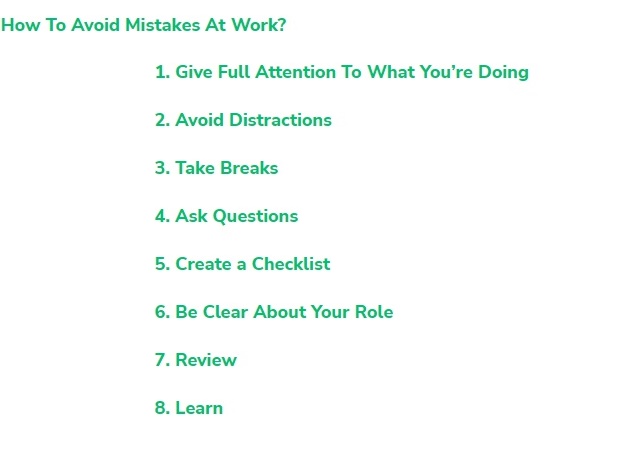 Mistakes can occur like overlooking numbers in the reports, sending emails to the wrong recipient. However, you can overcome the most frequent errors but there are some mistakes which can put your job at risk. Mistakes should be treated as an opportunity to learn how you can do better.
Use some boost productivity techniques such asto stop multitasking, eliminate distractions, use a task tracker or checklist, ask questionsand clarify doubts, review your work, get a second set of eyes, take breaks, refresh with a mental pause andtry to automate your task workflow. It's not easy to have a light-hearted approach to work. Fortunately, here are a few advices you can follow in your work lives to minimize mistakes.
✔ Pay more attention
You have to pay full attention while you are working. Doing multiple tasks andswitching tasks back and forth means higher chances of overlooking and missing things. By trying to get many jobs done doesn't mean you can give your 100% to all the tasks. You are splitting your attention across multiple tasks.
Several studies have proved the ineffectiveness of multitasking. These smallchanges could increase the probabilities of better performance.Your full attention should be included in your work. While working, don't distract yourself from anything. Attention must be important for any work. Give your full attention and work more and more to improve yourself.
✔ Refresh your mind
You will make more mistakes if you work too much consistently. Studies have proven that prolonged period of working could lead to poor quality of sleep, cause mental depression. Your brain also will not function optimally. Moreover, your memory and thinking skills will get affected by overworking according to the "Harvard Business Review". Therefore, while taking a break from work will help you to withdraw yourself from stressful situations and make you feel relaxed.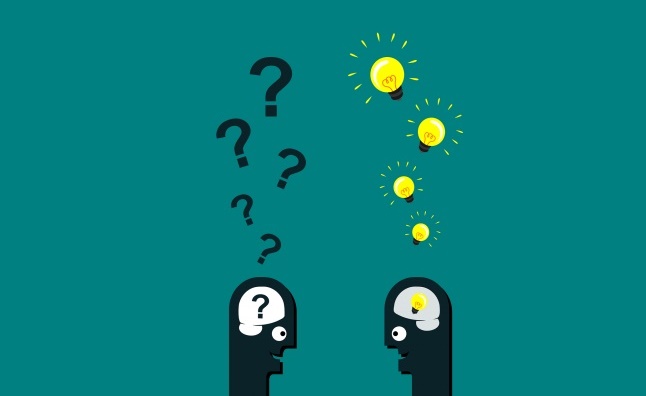 To refresh your brain we can play a game, do an exercise, or go for a walk, etc., this will help you to keep your brain sharp and also allows you to have more focus on work and avoid mistakes. The break is as important as your work.If your workcontinues to work without a break, itmay cause distraction and mistakes. You do work for some time but take a break often. Therefore, give equal importance to your work as well as to your break.
✔ Work without doubts
Understanding the questions is very important to avoid mistakes. A mistake often comes from the lack of understanding only. Even if you have a little doubt about a specific task, it's better to ask doubt and be clear before performing it. Ask your colleague or manager who is more knowledgeable and experienced than you.
One thing we want you to keep in mind is that asking questions will only make you smarter and knowledgeable. So,don't feel shy and don't hesitateforasking doubts. A clear understanding of your work will reduce errors, so try to use available sources of information and give your best in every possible way. You get a lot of benefits by asking questions. The question itself will be a lesson for discussion.
✔ Work-out your Plan
An essential role in avoiding mistakes at work is to have checklists and to-do lists. They are very useful especially when you have a lot of things to do. A checklist is very useful because it keeps your workflow structured so that you don't leave anything undone. Having details of the steps required to move to the next stage will help to minimize the errors.
You can also take the help of digital tools. Digital tools like Asana, Basecamp, Smart sheet, Monday.com,Trello, etc. These digital tools help to keep you moving from task to task. By creating a checklist, you can get an early start andas per the checklist, you can create your own ideas by using a mind map and diagrams that can help you to visually understand how there are connected.
✔ Review your work
Review is most important in the work. Carefully reviewing your work is very important before submission. You often tend to submit your work without revision when we are working with tension or if it is time to submit against a deadline. You should always take time to review your work before you publish, submit, or present it to the client.
Continuous reviewing helps you to find out many mistakes that would help you to improve yourself and that no one will question you on your work which will also improve your confidence level. The review helps you to point out areas where workers need to grow or change the behavior that will help you to improve the work. So the review is most important phase in working.
✔ Learn from mistakes
While you make some mistake you must not be sad or worried. If you or your co-workers had made mistakes, it's an excellent opportunity to learn and take measures to avoid them in the future. Mistakes are the steps to develop andimproveyou.Mistakes are the stepping stone to success. Every person must learn from their mistakes. You must make note of all the silly mistakes you do to improve it and not to repeat the mistakes again.
If you want to try to improve your work,take your mistakes as a lesson to improve yourself as well as others. Always you should show a positive attitude towards your mistakes because they are stepping stones to learn and create new things. You can't learn anything from hiding a mistake until you admit that you have made it. So take a deep breath and say yourself to take ownership of your mistakes, and tell yourself that you are working on a solution.
Related links: