and thousands of people have lost their money in buying lottery tickets. Scams related to time share is becoming extremely famous. Few years back Lauderdale Police Department arrested around thirteen fraudsters those who were involved in timeshare scams. These guys were working as telemarketing executives in a company named Florida timeshare Resale Company. They were involved in massive telemarketing scam. Timeshare is a concept where the several owners will share a lavish property or a resort. These timeshare property owners will sell their share of property through intermediaries. Scammers will pose as an affluent and branded intermediary and charge extraordinary upfront fees from the timeshare owner those are selling their share. Police department is seeing increasing number of timeshare frauds and scams and also order few telemarketing companies to close their shutters.
Timeshare properties are promoted and looked after by the companies that are selling them to different buyers. Tele-callers or few staff of the promoting companies will themselves act as fraudsters and scammers and will swindle the property owners' money. Scammers will come out with wonderful techniques in timeshare scams. They will shoot hundreds of mails to the timeshare property owners with the following wordings "We are one of the premium companies involved in selling time-share property and will sell your timeshare property for a very huge amount within few days. If you are interested please reply to this mail with an upfront fees of ---immediately", Hundreds of people those who owned timeshare property have fallen prey to these words and lost their money.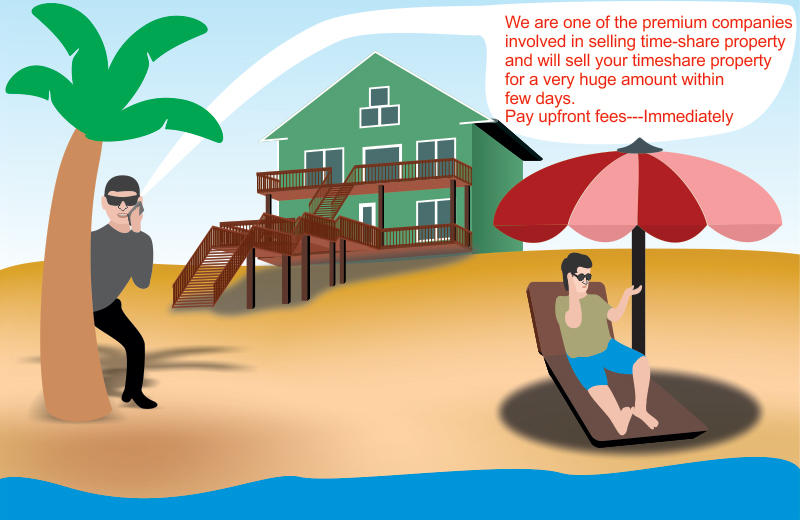 But scammers generally prefer phones as a preferred medium of communication. Scams related to timeshare elimination are also gaining popularity. Customers owning timeshare property will suddenly get a call from the scammers stating that they are timeshare elimination experts and you can easily exit from the timeshare by paying nominal upfront fees or they will also state that they are buying the property immediately and request the owner to pay processing fees. Scams related to time share presentation is worth reading and jotting down. In these types of scams the scammer or fraudster will approach the public as timeshare salesman and show lots of presentations about the methods followed in timeshare. He will inform that many resorts are offering timeshared rooms and for availing this facility they should give him immediately several dollars for processing. Many people have fallen prey to these types of scammers and have lost their money. Scams related to timeshare complaint and resale is also becoming famous. Public should never reply to the mails of the scammers and if they get a call from these types of people should immediately disconnect.