Ghana Scams
One of the most recent spots in the world right now for
scams
is Africa and specifically Ghana. The online web is full of "offers" from African cities and other countries; just make sure your e-mail Inbox is clean and secure. Ghana is a hot-bed for dating scams and huge money scams involving gold and diamonds. What we have initiated through our investigations is that in the U.S. there are several instances where a middle man becomes the victim to the scammer. These scammers are intellectual and are very familiar with their game. They often have multiple scams going around at the same time; it is how they run their business.
Several
documents on internet fraud
, dating scam, inheritance scam and other types of scam existing in Ghana are listed. There are about 25 Government-based and Educational sites that report cases on different scams occurring in Ghana.
Ghana Popular Scams
Scam Warning Signs
Currency for "emergencies" The Nigerian/Ghana Emergency Scam Currency for "emergencies" The Nigerian/Ghana Emergency Scam.
Someone requires to share a fortune The Nigerian 419 Scam.
The bogus Kidnap Scam.
Cashing money orders.
Watch out for forged profiles.
To avoid these scams we should remember the following,


"Check for a trustworthy website. And don't ever send your personal credit card account details & pin number to anyone."
Although, most African singles looking for a date online are legitimate, it cannot be denied that numerous online dating scams originate in African nations such as Nigeria, Ghana or Ivory Coast suitable to the low per capital income, high rates of unemployment, high rates of corruption and hopeless policing in these areas. The money extracted from victims in North America, Europe and Australia translates to enormous fortunes for the scammers who are eager to put weeks or months of work into getting a fine payout. Both men and women are targeted. Many scammers are fairly educated and are merciless, so to protect you from these scammers we are providing the
Spam Checker Tool
for your convenience.
Here you can enter the email or the contact number that you suspect to be a scam. This tool checks it with our spam database list and ensures you whether the email or the phone number is a real or bogus one.
Various Facets of Ghana Scam :
Ghana Job Scam :
Another type of scam that is trending in the list of Ghana scam is the "job scam". In the Ghana job scam, fraudsters approach the victims offering a job that perfectly suits their profile. The victims are asked to send their resumes along with their bank information. Urgent Job seekers often fall prey to these kinds of job offers and end up losing their personal financial information. Most of the job offers are from petroleum and oil gas companies that insist you to pay an advance fee for some legitimate reason.
Example: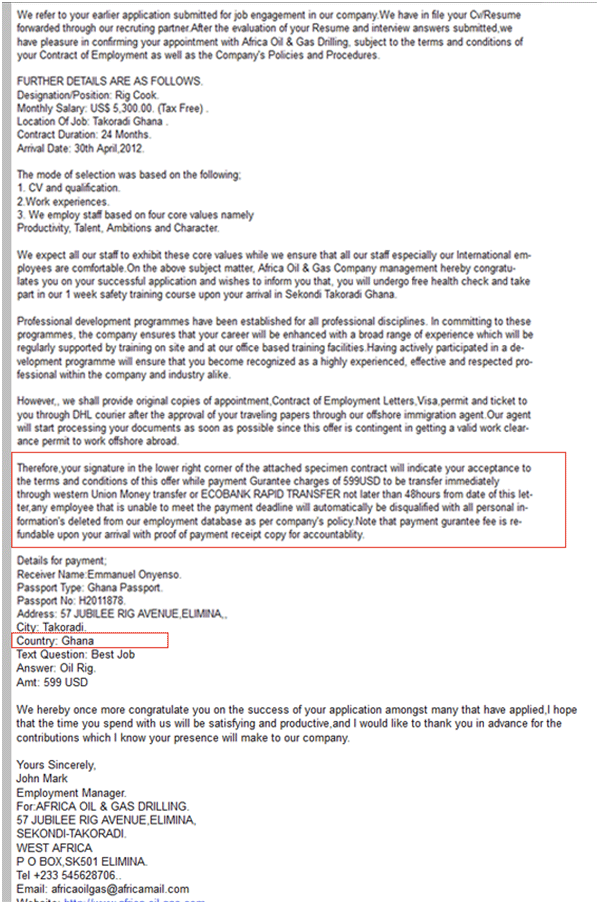 Online Classifieds Scam :
Scammers from Ghana are very proficient in online classifieds scam. This has become another common medium to persuade users to click on a link and influence them to enter information about themselves. Online classifieds are alert messages sent through various mediums about a product, service or an offer with a URL. Out of curiosity, users tend to click on the link and enter information about them. Scammers use this information to steal bank details, passwords and identity.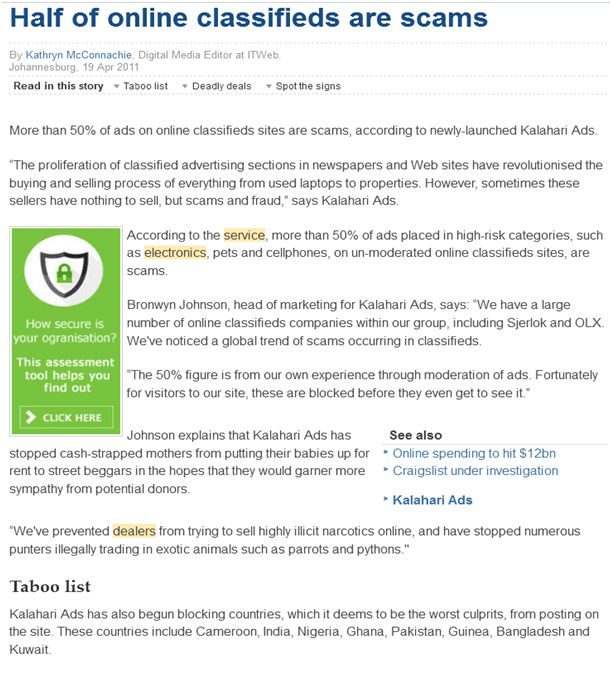 Ghana Fake Inheritance Scam :
Ghana scammers adopt a wise and different technique in order to obtain the victims bank details. They claim to be lawyers overseas, and send you emails stating that a person sharing your family name has died and has left behind lump sum money which will be going to the government if no nominees or relatives are found. These scammers emphasize the need for urgency, leaving no time for verification. Victims are asked to submit their bank details and in some cases are also asked to pay a fee for successful completion of the transfer process. Many in world who are unknown to such scams fall prey to it.
Example: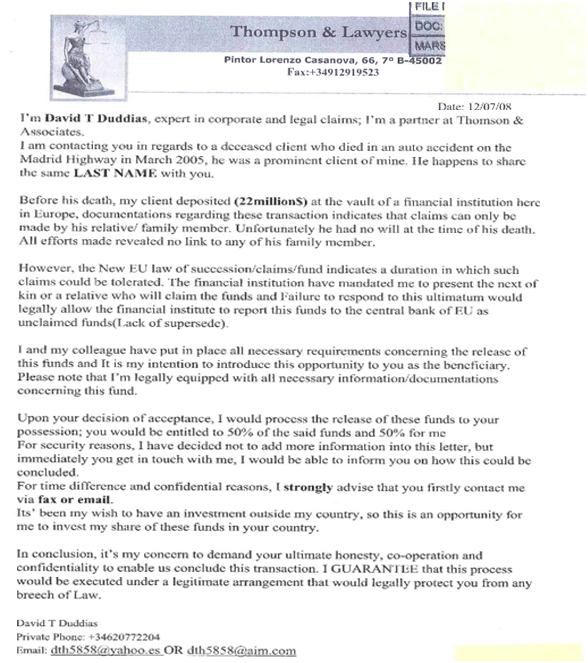 Ghana Phishing Scam :
Phishing is a technique employed by spammers and hackers to gather web user's personal information to steal their identities and then their money or benefits.
What is different about Ghana phishing scam?
Phishing emails that are suspected to be from Ghana are mainly mails of ecommerce websites that send away phishing emails to vast number of users. These emails request you to confirm your email address and verify your bank account information. The ultimate motive is to acquire user's personal information via website that appears to be legitimate to the user. Scammers from Ghana use all types of phishing techniques in order to make a scam operation successful.
Example:
Real life ghana scam stories :
» Recruitment Scam :
On 22nd June 215, Ghana police reported Ghana job scam that offered fake recruitment letters to 500 young men and women. The Ghana police arrested three men involved in Ghana recruitment scam and are spreading awareness about Ghana recruitment job scam.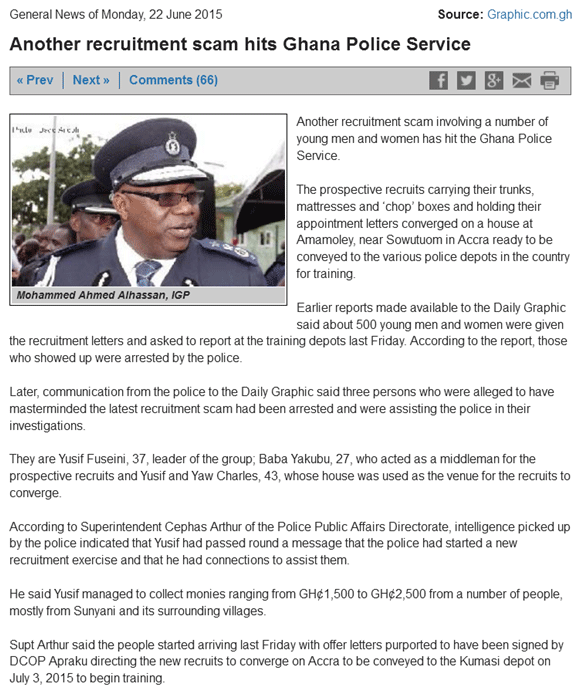 ---
Ghana police has arrested another group of Ghana scammers who promised job offers into the military and asked for 2000 dollars from each job seeker in the name of entry fee. In the same week, a fire service officer was arrested for duping more than 40 people on the pretext of offering them jobs in security services. The fire service officer took various sums of money from the recruits in the name of processing fees.
---
» Romance Scam :
Christopher Williams, romance scammer from Ghana was arrested for having scammed two women of 300000 Euros. He manipulated both the victims into believing that he genuinely wanted to marry them and move to UK. The victims lost all their life savings and also ended up in taking loans, believing the fraudster.
---
A 43 year old man met a scammer on a dating website and started believing in a fake relationship that started from there on. The scammer sent money in the name of inheritance scam believing that his loved one was in urgent need of help.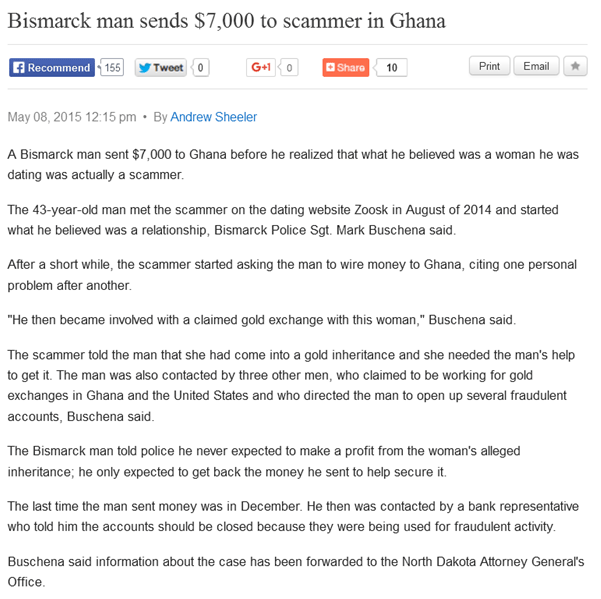 ---
A 73 year old man became a victim of Ghana romance scam. The scammer was a female porn star that scammed innocent user of his money and valuable belongings.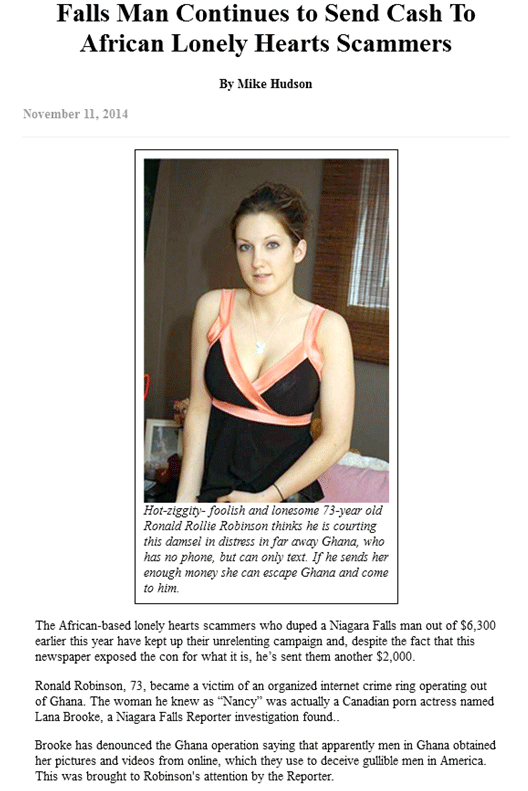 ---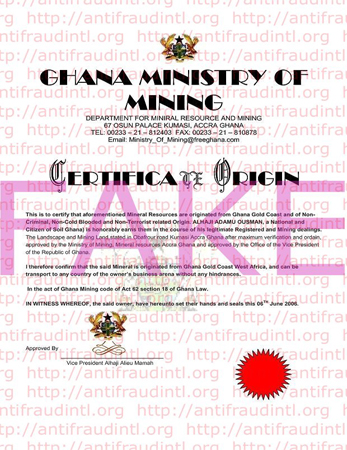 Report scam to United States government-you could file a
complaint about scam
or other crime here.
Related Scams :