Vehicle Matching Scams
Vehicle matching scams- The trick that traps you worse:
If you have advertised to put your car up for sale then be cautious you might be tracked by the criminals, who are keen on making you a victim of vehicle matching scams. The vehicle matching scam is a fraudulent activity played by the scammers that trick the innocent car sellers with their false promise of finding definite buyers. The Consumer Direct has received more than 2,000 complaints from private car sellers about this trick, last year. As a result, it has advised the sellers to be wary of these vehicle matching scams that take advantage on genuine car sellers.
Fraudsters approach you with cold calls:
The scammers contact the sellers through phone on seeing their car sale advertisement in newspaper, magazine or online. They pretend to be a car selling agent and tell you that they already have buyers lined up to buy your car and they evoke your lure by quoting a huge sum of amount for your used car and promise to get the sale done within a week. After bringing you to their way, scammers insist you to pay an upfront fee for the deal and guarantee to refund the amount, once the sale is done. If you pay the amount, these sham vehicle matchers disappear after then, leaving you with empty hands.
Vehicle purchasing scams:
Vehicle purchasing scams is a part of vehicle matching scams where the scammers pretend to be a buyer in overseas, who is interested in buying your vehicle. He will contact you telling that he will take up the vehicle with the help of a freight company. At last minute, he claims to have an issue with the payment of the freight company and ask you to pay the shipment cost into western union account with the offer to pay you more, during the final payment. If you make the payment then you will never regain it.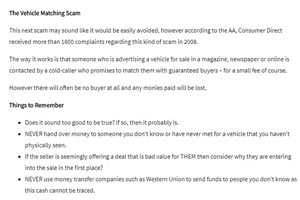 Vehicle finance scams:
In vehicle finance scams, the scam vehicle matchers favor the sellers by making the buyers to end with a high down payment. Here the vehicle matching scammers are being paid by the sellers to sell the car for an amount that is much greater than it's worth. This way the potential buyers are getting ripped off by the scam sellers and the scam vehicle matchers.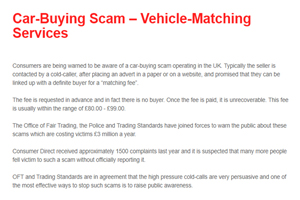 Vehicle insurance scams:
Through vehicle insurance scams, the cold blooded vehicle matchers make both buyer and seller get victimized. They create a well planned accident to the car buyer and insist the seller to claim a huge sum of money as reimbursement threatening him telling that due to his low maintenance only the car had met with an accident. In this case, the buyer costs injuries and the seller costs money but the scammers make use of their ignorance, make as much money as they can.
Ways to get rid from vehicle matching scams:
Related Scams: