Yellow Pages Scam
Scammers are targeting small businesses at busy times when they are most vulnerable to fall victim. The very idea behind yellow pages scam is to trick innocent small business owners and falsely register them for services that charge them monthly. Scam fighting agencies are warning all small business start-ups regarding the fake yellow pages business directory scam.
What happens in Yellow pages scam?
Small businesses receive a fax claiming to be from yellow pages and open business directories that claim to register their business information. They tend to approach them with the intent to confirm the contact details of the small businesses. However on the other side, the fax is basically an agreement to sign up to online businesses directories and other services related to them which charge the users on a monthly basis.

The scammers fraudulently register small businesses for monthly subscriptions without their knowledge for a minimum of two year period.
How yellow pages scam works:
As an owner of a small business, you receive a mail from an online business directory, asking you to confirm your business details.
The mail appears to be from a legitimate source with a domain name registered that runs a too good to be a true website.
Once the user confirms these details for the online business directory, the user has unknowingly subscribed to a two-year service that reaps no benefit to the user.
On non-agreement of the subscription, the scammers threaten the users saying they might take a legal action against the user as they have an evidence of subscription from the user who has unknowingly done while conforming his/her business details to the online business directory.
Yellow Pages scam popular in Australia:
It is reported that the maximum number of yellow pages scams are reported in Australia. Small businesses are tricked into thinking that the fax they received is from 'Sensis', a yellow pages registered directory from a well known Australian company. However, Sensis warns that such faxes are no way related to the company. Users that are unaware of this tend to fall prey to such scam faxes.

In 2011, two Australian companies were prosecuted for having sent thousands of these types of faxes targeting small businesses. It is also observed that the scammers made revenue of 2.7 million dollars by targeting small business in the name of yellow pages scam.
Signs to watch out for yellow pages scam: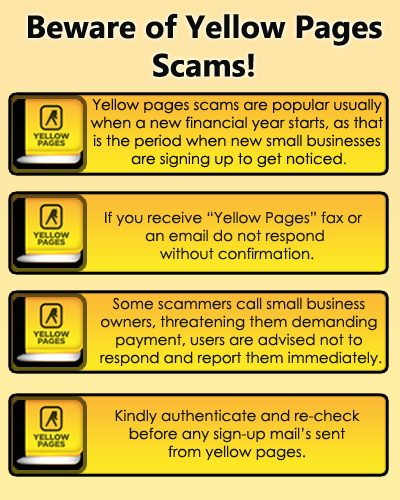 Scammers not only target users by sending a fax, but have also adopted means like direct delivery methods, emails, letters, phone calls and text messages.