Pay-in-Advance Credit Offers Scams
Companies claim that you've been "pre-qualified" to get a low-interest loan or credit card, or repair your bad credit even though banks have turned you down. But to take advantage of the offer, you have to ante up a processing fee of several hundred pounds or dollars.

Cautions:
The higher they provide you the offers, the greater the risk is, and moreover you should not respond to these emails.


How to find these claims are scams
First of all a legitimate lenders never "guarantee" a card or loan before you apply.
These legitimate lenders ask you to pay application, appraisal, or credit report fees, but these fees seldom are required before the lender is identified and the application is completed.
Also in addition, the fees generally are paid to the lender, not to the broker or person who arranged the "guaranteed" loan.
Feel Free to use our Spam Checker Tool
We are providing the
Spam Checker Tool
for your convenience. Here your can enter the email or the contact number that you suspect to be a scam. This tool checks it with our spam database list and ensure your regarding the email or the phone number is real one or the bogus.
Report scam to United States government-you could file a
complaint about scam
or other crime here.
Recognizing pay in advance credit offer scams:
The scam works as follows: firstly, the victim is guaranteed for a loan or credit of large amount. This is usually backed up by sending authenticated looking documents and loan contracts to convince them that they are not being scammed. These documents contain stolen reputable names of lenders along with fake logos for the company.
Next step consists of frequent calls, mails from the scammers asking the customer to give in their personal information for form filling or further process. This step is handled in a very smooth and professional manner because the customer will be very wary while giving in details about them.
The scammers generally target customers with low credit rating and those whose loan application is cancelled by the banks. Taking advantage of that, later, the customer is informed to pay a deposit in the name of insurance premium or down payment or processing fee because of their questionable credit rating and the amount of loan applied for. The payment is instructed to be made via Western Union or Moneygram following which they will receive their loan amount very quickly. It is obvious the customer is scammed successfully and the scammer disappears with the money and all the information needed for identity theft.
There are several forms of pay in advance credit/ loan scam schemes but they all follow the basic underlying strategy. In other forms, the fraudulent loan company will make regular demands for money from their victims stating their current credit report requires a larger deposit than quoted earlier. With such false excuses, the customer is victimized and is made to pay substantial sums of money for three or four times. By the time, the customer realizes their technique and tries to claim their money back; the scammers would have fled to other location and started to groom their new set of potential victims.
Tips to detect and avoid pay in advance credit offer scams:
A legitimate company will not ask for deposits in advance of a loan. They are aware of the fact that if their complaint is reported and if found guilty, their license will get cancelled.
Fees incurred in a legitimate loan are deducted before the funds are dispersed. A legitimate company will not ask for fee to be transferred via Western Union or Moneygram.
Avoid responding to calls, emails or letters from cash advance company or agency offering a loan or credit.
Once you fall for their pending receipt trick, frequent demand will start flooding in to pay a substantial amount to complete the loan process.
Remember lenders do not post ads. Avoid responding to loan solicitations in classified ads.
Beware of offers posted on popular social networking platforms like Twitter, Facebook, etc.
Make sure you land on the same page after you click on the company's website link.
Legitimate lenders never guarantee a credit or loan before you actually apply for it.
Common phrases to avoid "Bad credit, no credit, no problem", "loans available by applying online" or "call 1-###-###-####".
Beware of calls which guarantee a loan without a credit check. A lender who is least interested in your credit history is a scammer.
Verify details of the company on various online forums and check on their reviews. - Never give your personal details such as credit card number, bank account number or social security number unless you are familiar with the company. Scammers may use this information to commit identity theft.
How pay in advance fee credit offer scam artists find their victims:
People who have applied for loans recently, your need for financial assistance have been made known to other companies besides the company you applied for. Such customer information is made available by credit reporting agencies to anyone who is ready to pay some amount. This is the most common practice used by scam artists to receive a data about their potential victims. Therefore, be wary while giving out your personal details as it may result in the hands of an unscrupulous scammer who will use to commit a crime whose consequences will be directed towards you. In cases where you feel victimized, immediately report the case to your State Authorities and stop any communication with the fraudster.
Real life examples of advance fee loan/credit payment scams:
1. Bennie Saunders, 28, was arrested and charged with $5000 for fraudulently obtaining funds in the name of several telemarketing agencies such as Universal, Universal Finance, Avco Shoreline Viking Financial Group, Camerica Insurance, Prism Insurance, Signet, Nationwide and Telecom Plus. The fraudster used to operate in Toronto and would target U.S customers exclusively. He often provided them with a toll free number where on calling were told their loan has been approved and initial payment is to be made through courier to the Panama City Beach.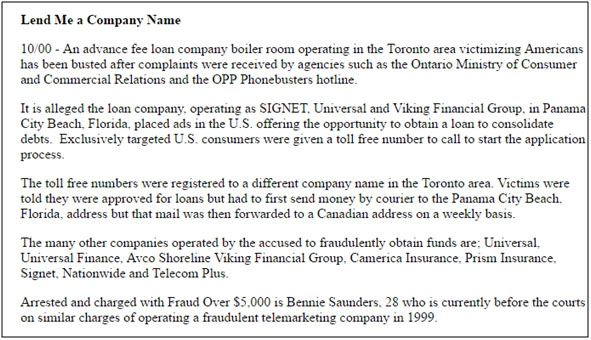 2. The screenshot below tells about an individual who was a victim of THE BUSINESS SOLUTION. Apparently, he paid the company for approving his funds and yet hasn't received his promised funds.

3. Statewide Financial, subsidiary company of Lafayette Lending Group reported that its name is being used to fraud customers in the name of advance fee loan. It is a scam where the customer is advised to pay 1% fee to the company via Western Union for the loans to be approved.
4. Leslie Card, 35 and Kevin Card, 33, belonged to Jamaica, were arrested in Ontario in January 2004 charged with 22 felonies. They used to scam people of Virginia and other people of 22 states for millions of dollars in phony credit loan deals. Their average scam earnings were estimated to be $10,000 per day, according to the Canadian authorities. The technique employed by them did not just made people to shed out their money but also reveal their personal details which led to identity theft. Reportedly, the largest amount scammed was $15,500 from a church janitor in Virginia.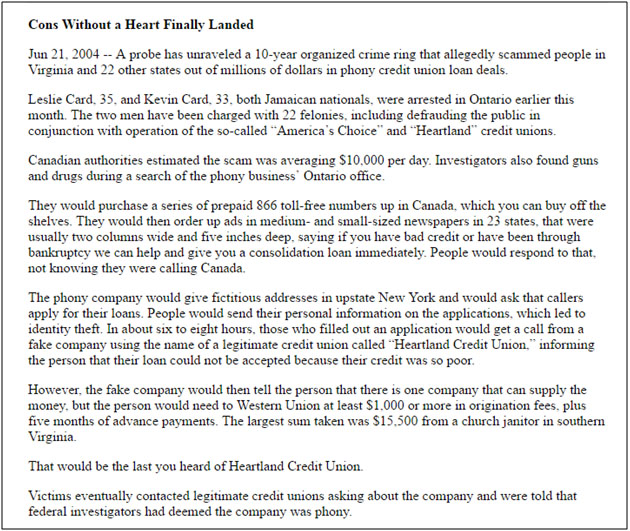 Related Scams: