Federal Trade Commission Scams
Combining technology and age old tricks, scammers devise several ways to defraud people around the world; one such recent way to get people tricked is Federal trade commission scams. Using the name of Federal trade commission, the Government consumer protection agency in United States, the crooks are continuously involving in several fraudulent activities, putting this organization in vain. As consumer complaints to the FTC increased day- by –day, it issued Federal trade commission scam alerts to people, asking to stay wary of spoofed e-mails, telephone calls and text messages that distract your mind with prize money or create a fear that you will be put behind the bars for an unpaid debt.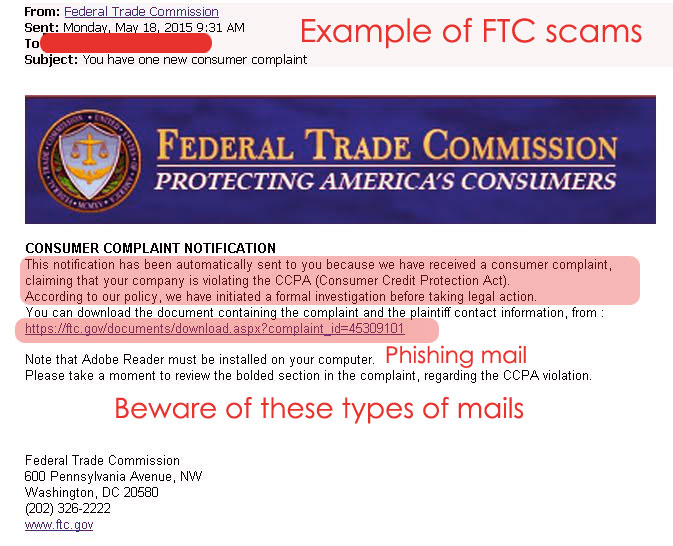 Several ways in which the Federal trade commission scams work:
Federal Trade commission phone scams:
Pretending to be a FTC employee, the scammers contact you through phone and make you believe that you have won a legitimate Sweepstake. Once you fell into their lure, they will ask for your personal information and bank account details in order to send your prize that will not even come near you. Sometimes, the con artists even ask for upfront payments as service charges. The worst part of the Federal Trade commission scam calls is that you cannot recognize that it is a fake call as the criminals alter the Caller ID to make the number appear a legitimate FTC number. Thus, the Federal trade commission phone scams loot your money and personal information effortlessly.
Federal Trade commission Internet scams:
E-mails are the primary source for this scam; the scammers send you fake messages that your bank account has encountered an authorized transaction, please send your details for general verification purpose or click the below link to get your tax partially refund. If you trust these Federal trade commission scam email, then you are likely to risk your entire bank deposits and personal identity.
Federal Trade commission scholarship scams:
It is the newly emerged scam, several unscrupulous companies claiming themselves as the advisory wing of FTC, approach students , who are looking for prospective scholarships with a fake promise of guaranteed scholarships, grants or financial aid packages. If the innocents get convinced, they play their trick and ask for certain refundable amount that you will never receive it again. These Federal Trade commission scholarships scams are fooling around thousands of students every year.
Stay away from ripping FTC scams:
Federal government employees will never ask the public to send money for prizes or unpaid loans, if you come across any such calls, cut the line or leave a Federal Trade commission scam complaint in the authorized portal of FTC. Never reply to any e-mails from third person, who claims to be a FTC employee, unless you confirm his credentials. Be wary of money back scholarships as no legitimate organization will pull money from students for scholarships. Moreover, stay updated about the recent Federal Trade commission scam complaints that are received by FTC. This way you are much protected from the Federal Trade commission scams that are doing the rounds in recent trends.
Related Scams: