Work from home jobs:-
Working from home is more popular and more efficient nowadays. There is a lot of working from home jobs available for all qualified workers. The work from home job patterns are not onlydesigned for qualified workers but also for the low educated who can also earn from this work from home jobs. Your earnings in work from home are based on the time and effort you applied. When you enter into Google you can see many companies providing work from home job services online.
But not all companies are true; all companies mentioned on the job search page are not really committed to provide employment for all. The work from hometyping job scammers will provide you flexible work timings and possibilities of making hundreds of dollars a week and you can work in the comfort of your home.
Typing job is not an easy task and it's not everyone's cup of tea, you have to type huge documents to earn minimum amount. Don't think that you can earn more by simply typing one or two pages. Some online posters like "Make more money online at home" changes your mind, especially youngsters' minds. Getting inspired by these posts will give you a thought of doing a tying work from home.
Once you applied for the job, the recruiter will ask you to pay a registration fee to share the work information. After registration, the recruiter gives you some work like want to post attractive ads like "Type Work at Home" on some other classified websites to make peoplesee the ads and contact you and you must ask him for a registration fee which is your salary which makes you involved in scamming activities.
Online typing jobs scam:-
Work from home and typing jobs scams are one of the highest ranking job scams online according to a research. You have come across much work from hometying jobs ads across the Internet. Some may probably receive ads in messages and emails every day. These companies usually collect a database about the people who are recently accessing the internet for work from home jobs and target these people to send scam messages and e-mails.
This type of companies usually tries to transform you into a scammer. They send more promising texts and pamper you for transformation. They also take quick process and communicate with you frequently because they want you to accept their offer. Their words might kindle an interest in you and encourages youto make use of this excellent opportunity to earn more from your home. And this typing work is available worldwide, so, you can work at a flexible time.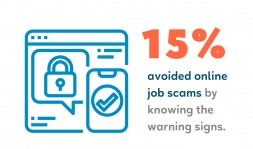 You can set your own hours. You can make up to $200 dollars within a month by working full time. The scam sites mostly fail to conduct interviews and application processes. They are very quick in their process. Once they receive an amount from you, they disappear. The Good news is not everything is bogus; there are some trusted services as well.
The typing work from home is one of the great sources of income. You can make use of this system whether you are retired, a student, home maker, or seeking part-time work from home. This can be a sustainable source of income. There are many genuine, professionals, and experienced outsourcing companies nearby you offering work from home jobs to individuals who want to work in a flexible time from the comfort of their home.
How to find fraudulent activity in typing work scam online?
However, it is not easy to find out a legitimate company offering typing work from home jobs online. Every day we have come across this work from home scammers who take attempts to offer fake job positions. If you want to save yourself from these job scams, knowing first you need to know how to find genuine tying work from home from a reputable agency.
Online typing work basically requires a computer system or laptop with an internet connection. The company will pay you as per the page or words you completed. The job typically works like file conversion or simply copy-typing. Some companies ask you to enter the numbers, symbols, or letters into some other pages or ask you to transform the documents or files from one format to another format using their software.
The work might also include uploading, rearranging, updating, or checking information or data for accuracy and deleting or modifying the incorrect data, and many more. Once you get all the details about the scammer, just quit the offer and make your friends and family aware. You can also report such fraudulent activity to The Federal Trade Commission (FTC) or to The Better Business Bureau (BBB).
Sharing these details about the scammer in social media is also a good attempt to save many peoples from this fraudulent activity. While the work from home online is really a great platform for people who want to work from their home and want to make a good income. Therewill be some negative activities that may come to divert your thoughts. So,first educate yourself and do more research before accepting any fake promises.
How to identify typing work scams?
Many fraudulent typing work services publish fake job posters to entice those who are looking for legitimate typing work. Once they target such person, they continuously send SMS and e-mail messages to the concerned person. They use different company names and send the same messages many times. If you read their message and started communicating with them, you can find they are very eager to take you to the next process. Usually, recruitment takes place with multiple interviews and training.
But the scammer services offer you the job without any interviews and they don't ask you for a resume, application, qualifications, or skills. And they don't have any proper schedule for discussion. You can also find the originality of the company by asking more questions. If the employer gets desperate for your answer, then surely it is a scam, you just cancel the conversation and move on,if you found out their true intentions. If you are too late, that is you have paid the registration fee, you can report to the FTC, they take proper action and save your money.
Related links: