What exactly is the fruit picker's job?
The Fruit Picking Job refers to the activities related to fruit harvesting in areas where the fruit orchards can grow well, only there the Fruit Picking Job is required.On monthly basis, the fruit harvesting will be different as per the seasons favourable for the fruit. For example, Strawberries season starts from April 10 to June 30, Blackberries season from June 10 to July 30, Blueberries season from May 15 to June 30 and Boysenberries from May 10 to July 5, etc. During these particular months, they will crop and harvest the fruit and the labour which will be used for the harvesting is known as fruit-picking job.
A fruit picker picks or harvests the ripened fruits and vegetables and discards the rotten and over- ripened fruits and vegetables. They possess machinery and technical skills to operate machineries for harvesting and also the traditional methods to pluck the ripened fruits and vegetables. If you are looking for a job like Fruit Picking in different countries, be aware of the Fruit Picking Job Scam which is wreaking havoc nowadays.
The picking job Scam will post an ad which delivers a fake message that in one day you can earn up to $200 (two hundred dollars) per day for a minimum work period of ten hours a day. They harvest fruitslike Strawberries, Apricots, Pear, and orange, etc. and they will also have websites framing like a genuine farming business. You may never know who will be a real farming business.
A fake fruit picking company scams:-
They will tell you that in a couple of months you will be able to earn $8,000 to $10,000 plus so apply for this job. After a small interview, they will state that their farmer is located 600 km away from their company, which you have to pick. The fraudsters will show some seriousness about the job. He will ask for the money as a deposit. Moreover, He will try to justify his reason to deposit the money. Though, the deposited money will not be refunded even if you join the job. Moreover they will set some conditions for the job, which tends to be a 100% scam.
By seeing these types of ads, the people are depositing their money to the scam. These kinds of scams will acquire your money but, they will never provide you the job. They will brain wash you till they make you come forward to pay for the job.But, in a legitimate fruit harvesting company, they hire fruit pickers for a fixed salary and they never charge any fees or deposit money for security purposes.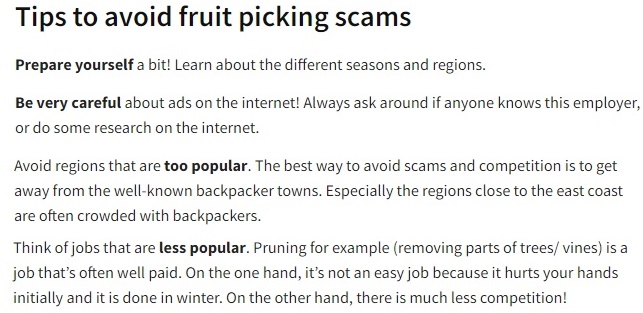 The company will be concerned in growing fruits and vegetables on their particular seasons and they harvest the fruit and vegetables. After harvesting the fruits and vegetables, they collect them in a truck to the factory and wash them and they will have them packed in the boxes and send them to other countries or states. These are the typical procedures and works followed by the fruit pickers.
In a fake picking company, they lie about their company and about their business. You need to be careful while job searching. In every country, the seasonal fruits will be different from one country to another. Some may know about the fruits and their seasons and the seasonalmonthsof a country but some people may not know about the seasonal months of that country.
For example, in India, the winter season starts from January to February. Whereas, in Australia, the winter seasonbegins from June to August, but the fraudsters will provide fake information that in Australia the harvest will begin from January. You must be careful while applying for a Fruit Picking Job because most of the job offers are scams.
Not all of them are scams; there are some genuinebusiness companies. They hire the people in a true way. They gather the people and show the places where they work and they will tell the procedure how to work. They will look after their worker's safety and they give guidelines to those who come to work.
How to Prevent Ourselves from Being Scammed?
Unfortunately, we are all helpless when it comes to stop these scams and scammers. The right thing we can do is to make other people aware of such scams and prevent them from such frauds so that, thisshould not happen to anyone. Here are some ways to protect ourselves from being scammed.
✔ Avoid Paying any money to the company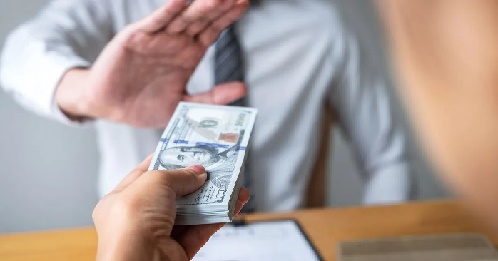 The fake company can extract money from you in many ways. For Example, requesting money for security deposit or accommodation fees or job security, etc. are some of their methods of extracting money.
✔ Cross – check the profile of the company
Some companies may look genuine but they may be fake companies. So, cross – check and research about the company as much as you could.
✔ Don't Pay First
Fraudsters create websites to scam people only for the sake of money, Seasonal job seeks should conduct their own research on the company, their crop farming area, including the type of product cultivated and harvested and their methods of cultivation and their time for harvest. For the fake ones, they are all interested in your money.
So do not give the original numbers or account numbers of anything. They are interested in getting fees from you. Therefore, they will be hell bend in extracting money by telling some excuses like this time is not the season for Fruit Picking Job. So, first you pay the deposit money than in season, you can work in season time.
Even if you tell them no, they will not leave you, they will pester you.They will call you again and again and disturb you because they want money. You must want to avoid them completely. Kindly don't pay any amount before you join to any kind of job. Research, think and select the job careful carefully before joining.
Related links: