Scholarship Scams
Students seek financial aid while scammers seek target in the name of "Scholarship". Hundred thousand students are swindled by Scholarship scams every year on a collective basis. Multiple sources say that the victims of these scams lose thousands of dollars and even more, which costs $5 million annually. Scholarships disguised as financial aid seminars are a Scam, so be on the lookout for "official-sounding words" which include "National," "Federal," "Foundation," or "Administration", when you are conducting your Scholarship search.
Listed below are examples of phrasing that the U.S. Department of Education and the Federal Trade Commission (FTC) warning borrowers to be wary of
• "Guaranteed scholarship, or your money back"
• "Buy now if not you will miss this opportunity"
• "You can't get this information elsewhere."
For more information, refer to the tip sheet online.


Unsolicited scholarship offers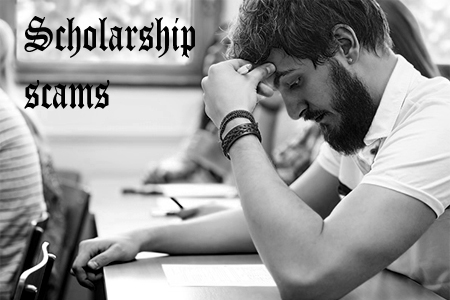 Be very careful with voluntary proposals, without any second thought, ignore such offers and you will save yourself a lot of time and headache. An award of financial aid for a student to get ahead with their education is not just given out to random students. Irrespective of how special they are, there are certain eligibility criteria's and it all starts after an application process. So, if someone contacts you via phone or email offering you a scholarship, ignore it.
Where to report?
Spotting common scholarship scam is half the battle, the other half is to know where to report. But not really! If you suspect that a scholarship program might be a scam, report to your guidance counselor or your school's financial aid office or to anti-fraud organizations with a copy of all literature and correspondence concerning it. They can help you verify if it is legitimate or not. Following are the places you can report to if you are a victim of scholarship scam:
• National Fraud Information Center (NFIC)
• Federal Trade Commission (FTC)
• State Attorney General's Office
• Better Business Bureau (BBB)
• US Postal Inspection Service (USPIS)
• US Department of Education Office of the Inspector General
There is no quick and easy way to find scholarships, so just use your time wisely and things will go well.
Rules of thumb:
•Spend time, not money; don't pay money to get money
•Trust your instinct, if you feel suspicious
•Legit scholarships are never guaranteed
•If it seems to be too good to be true, it probably is
•"Don't call us, we will call you" is a statement you should be suspicious of