What is foreign worker application scam?
Foreign Worker Application Scam, one of the most unique kinds of scams. This scam is about immigration and work opportunities of foreign countries shown by fraudsters to trap the job seekers in this deep hole.It all begins with an email claiming that you are the winner of a foreign loyalty. They do this to claim the money from you through means of processing or customs fees. Sometimesthey will ask to provide a bank account number so the funds can be transferred to your account.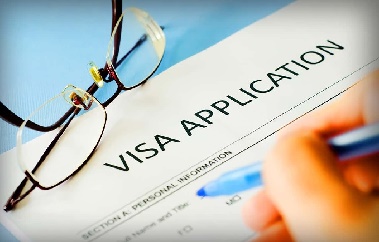 Even if you don't possess a visa, don't worry because the fraudsters will provide you visa in no time. If you are a citizen of a country and want to study or work in developed countries like the United States, Canada, Australia, and the United Kingdom. Be careful because your big ambitions will make you do anything for your dreams to come true. If you are applying for any foreign job, here you have to be careful because many foreign job opportunities are not true.
How to differentiate the Original Job Opportunity from the Fake Ones?
✔ Don't Disclose your Full Information
The fraudsters will ask for your full details and will provide you an application form to fill your personal and financial details. After filling it, they will ask you to deposit some amount before joining the job in foreign. Some people will not pay but some will pay the amount that they asked. The family background and family situation also pushes them to pay the money with ahope to work in foreign.
Their intention is to earn more to support their family. But these fraudsters make use of your compulsion to extract money from you. Our people want to work in foreign to support their family. But before going to foreign you need to have a visa. For that, you have to pay a small amount of money for applying for the visa along with that you should provide documents and other information to the visa office.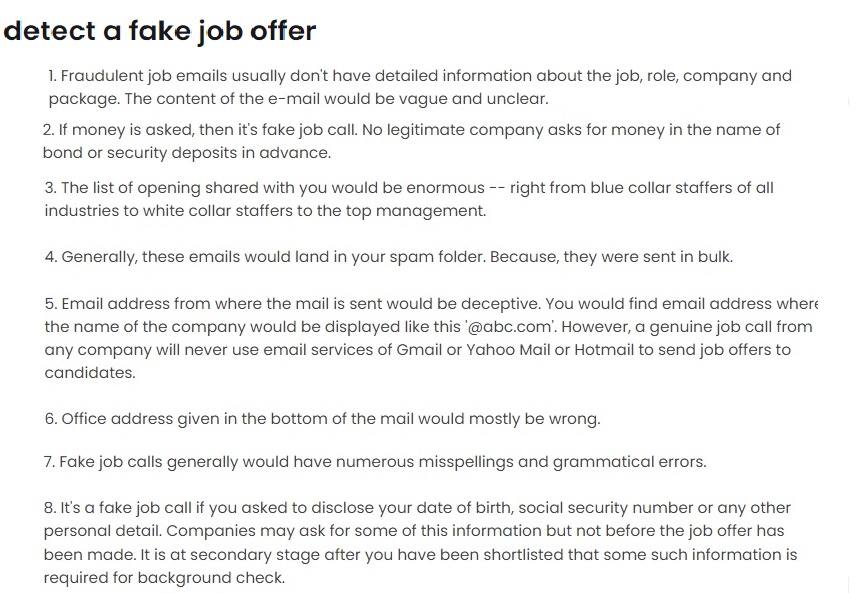 Here is where these fraudsters play the predator, they provide visa with zero document verifications and they charge very less. In this field of scam, the fraudsters are more conscious and cunning as they will try their best to win people's and squeeze out their own money without their knowledge. Therefore, don't believe such offers which provides visa in no time. If you gave the money for visa, that's all.You will never get both your visa and your money.
✔ Know the Job
Improper job description, unprofessional emails, online chat interview, no contact information, are some of the hazardous signs of a fake job offer. You should also check that the job offer is sent to your email address and not sent through social media or messages in your personal number; you must ask them to provide their company information. This is the way to discriminate whether they are bogus or not.
In the foreign job application, they send an application form for you in whichincludes CV and Qualification for the job, Mode in which your data is being presented in the employment datasheet, required work experience. And your HR manager will select you based on four core values namely, productivity, talent, limitations and capabilities after that we are moving to the next level of the processing which is your eligibility to work in the USA because foreigners require a visa to work in the USA.
It is based on certain basic requirements and provides positive and negative results. A positive result guarantees visa approvalby the US immigration to live and work in the united state. You want to contact the United State immigration through their address uscis@mail2NewYork.com. You also want to attach a recommendation letter to your mail. You should print out the recommendation and include your name in the open space with the link and in the block letter.
✔ Don't Give Your Number
Don't give your number to everyone in the media like WhatsApp, Instagram, Twitter, Facebook, etc. Use the number only if they are asking. The scammer will create a fake link and they will fake username and fake email id also. Be careful while searching for jobs mainly foreign jobs. Most of the foreign jobs are bogus. There are only few real foreign jobs are there. So use the link and the apps mainly foreign job apps and links.
You have to be series about job scams especially for foreign jobs. Analyse and avoid scam people because they will aim only for the money and they will not realize the pain of that person who pays money. Don't pay the money for anything before joining the work. Search carefully to proceed for the next step. You should be very careful before accepting any job offers. Also read all the instructions carefully before applying for any job vacancy.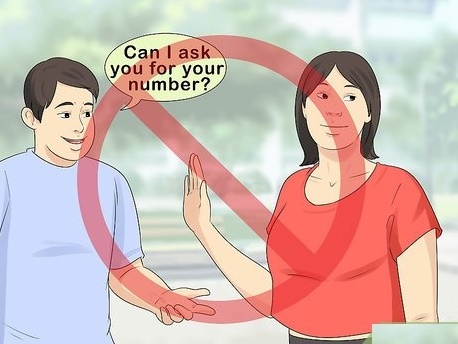 Checking the offer letter two or three times is not wrong if you want to protect yourself from any illegal activity. If your foreign job application form doesn't contain any clear details, avoid proceeding forward. The foreign job application form should contain the contact information of the authority. If there is any missing information in your foreign job application form, you can enter the name of the company in a Google search to find out the current location of the company and the contact details.
If the Google search returns with no results, then you are holding a scam application form in your hand. Foreign job application forms scams not only done by fraudsters but also some local organizations are also involved in such activities. So, be careful while applying for any jobs online. Some jobs also ask you to pay a demand draft to take you to the next process.
Some are real but not all; you can discuss this with professionals to get a clear knowledge about scams. Or else, you won't be able to protect yourself by doing much research on Google. If you faced such issues while applying for a job, immediately raise a complaint on the particular company. If you have doubts about your job, consult a professional to clear your doubts.
Related links: