While there are several dependable marketing people out there who approaches you with products or services by your doorstep. There are scammers on the other hand who try to deceive you. Seeing that, Doorstep scammers are dynamic and persuasive, it is often easy to fall victim. Door Step Electricity Meter Scams are on the rounds, be on your guard. With more than thousands in city conned by cheaper energy scam, it is time to act wisely. In view of the fact that, the con artists of these electricity scams are assumed to have associations to serious and organized criminal activity, electricity companies are urging their customers not to get involved by falling prey to them.
For people who use pre-payment meters, cut-price energy deals appear as a cost-effective option, but take the time to know the fact! It simply involves the production or cloning of electricity prepayment meter and top-up keys. When the cloned key is inserted into the meter, credit of a certain amount is gained for a minimal payment, which is considered as an advantage, but it is a false credit; because the energy company can spot it and imbursement to the company supplying the electricity is considered essential in the usual way. If truth be told, people who have hooked on to such deal have lost twice or thrice the amount of their regular energy bills.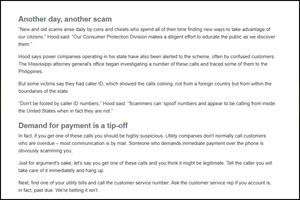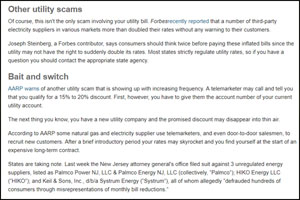 To protect yourself from such an act that is so nerve-wracking, you need to buy top-ups only from official outlets and always remember, no electricity company offers top-ups on the doorstep. Always get a receipt and look out for the particulars, credit is transferred to your meter when you subsequently insert your key or card. Consider setting up a utility password with your gas and electricity providers so that you can find out the genuine meter readers from the false ones. In order to activate this service, call up your utility company and ask details regarding this and they might need to put you on their Priority Services Register which will be a little charge to you.
If someone has knocked on your door offering you cut-price electricity for cash, think twice and confirm it with your electricity company. If you've been the victim of electricity scam, report it to the local authorities and to the FTC, they may be able to track down the fraudster. Don't hesitate to report the scam, if you report it, it may help to prevent others from experiencing the same thing.