How to spot freelance scams?
Most popularly freelancers are registered on websites like freelancer.com LinkedIn, upwork.com. This gives a chance to the freelance scammers to log in to the website and make a fake bid. The fake freelancer never provides complete information about himself.
The freelancer platform doesn't tell you whether the client is trustworthy enough to pay for the completed task. There is also no way to tell whether the freelancer is not just phishing and trying to steal details from applicants. You can find out the freelancer scammer easily by exercising some tips and tricks.
✔ Freelancer asks for a pre-payment
If your freelancer asks you to make a payment before any work has been completed, then he is a 100% scammer. Freelance scammers may ask for a complete payment before accepting the task and then never deliver the project, just escape from the site and log in with a new name and new information.


To protect yourself from freelance scams, you can release progressively as work is completed. Do not release the full payment until your project is completed and you are well satisfied with that.





You can't blindly trust any websites posting freelance jobs. Even fraudulent website also contains security messages like "Be aware of fake jobs" and these websites also send security messages via e-mail and SMS and ask you for mobile number verification and e-mail verification.


But just remember, Fraudsters are clever and they can easily read our minds. Do be aware and do three or four cross checks before bidding on a project or before accepting a freelancer to work on your task.
✔ Freelancer asks for an offline payment
It is not normal to make offline payments for a freelancing job.The freelancer cannot ask you to send money through online platforms like PayPal, Google Pay, and Bit coin. It is mandatory to make transaction with the freelancer through the website only and not allowed to transfer money offline or through any other means.
The job poster has to mention the payment for the project in the freelancer platform that acts as a form of guaranteed payment for the freelancer. This indicates that the freelancer can begin work. However, the complete payment is only released once the bid is submitted and you are satisfied with the final result.





Now there are many technologies available to protect the payment activities in the freelancer platform. One of the most popular and well-developed method is block chaintechnology. This technology uses a Time Lock Deposit Protocol (TLDP) to offer a secure transaction.
✔ Freelancer delays the project submission and demand more money
Your freelancer accepted the payment for the project and begins work on the bid. But after completion of the project, the freelancer delays the submission and demands more money. In such cases, avoid starting any further milestones. This is blackmail and is a breach of your original agreed payment.
✔ Gain access to the website
Freelance might bid on your project to get admin access to your website. As a client verify more before allowing freelancers to access your dashboard. Do not provide any form of ID or documentation to a freelancer before verification even if they are asking for it. The default freelancer KYC confirms customer identity through documentation collection to prevent fraud and money laundering.
Sometimes the client is also involved in illegal practices like,
✔ The client conducts more tests
If your client asks you to submit more than one sample, then he/she will not be an authorized person. You can reduce the submission of samples by demonstrating your ability to a potential client. Avoid agreeing to too many free samples.
Sometimes, clients ask freelancers to purchase paid software from them to begin the work. This is also a kind of freelance scam. Freelancing is an open-source platform; you have all resources with access permission. So, don't go with the paid resources.


If your client asks you to register on any websites or asks you to add your personal information in any form, don't agree with his project.


Freelancer before bidding on a project opens the client profile and reads his reviews and previous performance. If you are facing any irregular activities in the freelancer platform, you can register complaints about cybercrime.
✔ External communication Scam
If you have registered and working on a freelance platform, you are allowed to use only the official communication channels. Once you have developed a strong relationship with your client, you can go with external communication channels. Using the official chat systems can help protect both you and the client from potential abuse.
After beginning a strong and trusted relationship with your client, you can create separate chat systems. The better way is to create a separate e-mail account and contact number for official purposes. You don't want to use different mobile phones to handle personal and business contact.
Instead, you can use Google Voice to create a VoIP number that disconnects from your personal number. You may also create a separate Skype account for official purposes.In all circumstances, avoid giving clients access to your social media accounts.
The only exception might be a LinkedIn account, where adding your clients to the platform may help increase your business opportunities and give you a chance to investigate the trustworthiness of a client.
✔ Account Hacking Scams
If a freelancer or client maintains a good profile with high skills, and attempts to get you to share your work and experience on the freelance platform accounts are more common. This will be not only for success but also to have a good record of solid work profiles. As you maintain a good relationship, you will need to be diligent but, you mustnot reveal your income or personal details.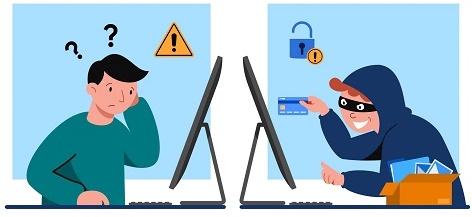 Anyone asking to share your account is likely to hack your account. Sharing a freelance platform or PayPal account with the client is also a huge privacy risk. If you are not sure whether a site or service is legitimate, thenthe finest way to find is to do a quick Google search. If a website contains bad reviews or multiple sources state, then definitely it's a scam. If such a state of affairshappens, you can move forward for better opportunities.
Related links: