TRAVEL PRIZE SCAM
WHAT IS TRAVEL PRIZE SCAM ?
Travel prize scams are attempts to trick you into parting with your money to claim a 'reward' such as a free or discounted holiday.
HOW DOES THIS SCAM WORK ?
You receive a notification, by phone, text, email or post, claiming that you have won a prize in the form of vouchers, often worth $2000 or $3000 for a discounted holiday. The scammer presents you with an amazing offer for a heavily discounted accommodation or holiday package to a popular destination. Other scams offer holidays with tickets to theme parks or sailing expenditure at highly discounted rates. However, in reality these packages or the prize doesn't exist. Travel prize scams maybe a consequence after you have been searching for a holiday online. Alternatively, you might have participated in an online survey and are subsequently notified that you have won a holiday or vouchers. When you go to claim your prize, you are told that you first need to buy more travel vouchers. If you decide to take up this offer, you will be asked to provide your credit card and licence details before they can send you the 'prize'. If you hand over your credit card details, the scammer will quickly use these to take money from your bank account. They may also use your personal details to commit some other form of identity crime. The promised prize or vouchers will neither arrive, nor if they do, will be dishonored when you try to recover them. Sometimes the scammers will provide you with tickets and a plan to travel but when the time to travel arrives, the tickets are useless and the business cannot be contacted.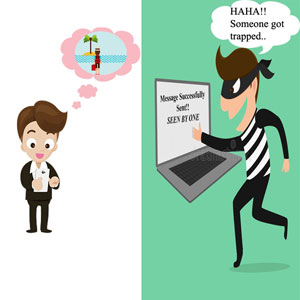 WARNING SIGNS :
• You are contacted by someone claiming that you won a prize related to travel or accommodation in a competition you never entered.
• In order to receive the holiday you still need to pay a discounted amount. Payment is often requested through cheques, bank or money transfers.
• The supplier making the offer does not provide any contact details beyond an email or Post Office box.
• Scammers may claim to be affiliated with well-known and reputable businesses, such as airlines or hotel chains, to try and convince you that they're the real deal.

WAYS TO PROTECT YOURSELF :
• If you are considering buying a holiday package through a third party, find out if the offer is the real deal.
• Call the holiday accommodation provider directly to verify the deal using contact details sourced independently.
• Research the 'business' that you're dealing with. Search online for reviews. Try searching using the business name or contact details provided to you.
• Book through an accredited agent or reputable website to make sure you get legitimate accommodation.
• Find officially recognized travel agents. Officially recognized travel agents must abide by a code of conduct and have dispute resolution procedures in place.
• Be cautious about the requested method of payment: different means of payment offer different protections. Be aware of requests for cheques, bank or money transfers when booking travel as these are not typically used for secure consumer payments.
• If booking online, choose secure payment methods. If you pay with a credit card, you may be able to seek a chargeback if you don't get what you pay for.

STATISTICS SHOWING PEOPLE DECEIVED FROM TRAVEL PRIZE SCAM :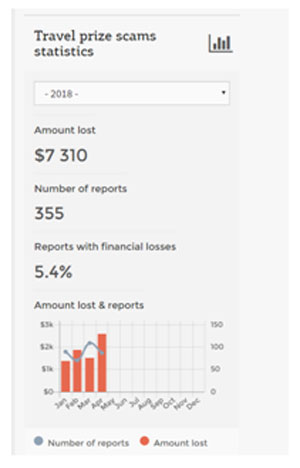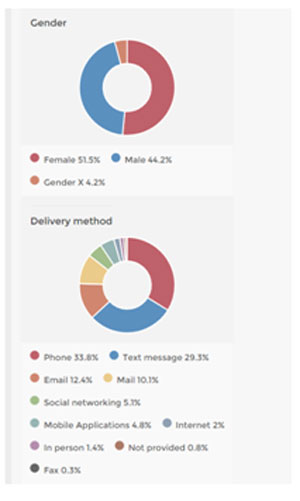 BEWARE OF...
• Instant travel offers : Companies may offer special discounted travel rates, but be aware that only suppliers of such travel services - like cruise lines, hotels, auto rental companies, airlines - can offer discounts to their services.
• Demanding sales representatives : Representatives may try to draw out a credit card number or other financial information before explaining the conditions of their offer, saying they will use the information for "identification purposes." If a sales representative refuses to provide detailed information about the total cost of the travel offer, this may result in misuse of your credit card.
• Memberships or fees : Some companies may require you to become a member of a travel club or to pay an initial fee to claim a vacation or travel prize. Others may offer low airfare or other rates if you purchase the same ticket or service for a companion, at full price. These "full price" costs or other fees may be inflated, reducing the bargain of your travel deal.
• Courier offers : Companies may require you to serve as a messenger or courier to deliver something on their behalf, which in reality may be the company's attempt to subvert U.S. postal authorities.

EXAMPLE OF TRAVEL PRIZE SCAM :
The holiday prize which nearly cost Nicole thousands of dollars
Nicole was browsing the internet planning for her next holiday when a pop-up message appeared on her screen informing her that she had won a holiday to the Bahamas. To claim her prize she would have to call the number listed within three minutes. Nicole immediately called the number. A female voice with an American accent answered the call and told Nicole in an excited voice that she'd won the holiday. The woman mentioned some figures that didn't seem to have any connection to the holiday prize, and asked Nicole for her credit card details. Nicole began to suspect that she had not really won an all-expenses-paid holiday package. After the woman had taken Nicole's credit card details, she told Nicole that she was 'locked in' to buying the holiday. Nicole asked to withdraw but the woman on the phone refused. Eventually, Nicole spoke to a manager who also refused to let Nicole cancel the agreement to purchase the holiday package. The manager also told Nicole that she had to listen to a recording of the company's terms and conditions and confirm that she understood and agreed to them. The manager told Nicole that if she hung up the phone, she would have to pay $1,000 and she would be charged double if she made a complaint. Nicole reluctantly agreed to listen to the recorded terms and conditions. The company selling the holiday used high pressure tactics to force Nicole into a transaction she didn't really understand. After Nicole ended the phone call, she contacted her bank who cancelled her credit card and said they would do their best to get the money back. Even though Nicole's bank managed to get her money back, this scam caused Nicole and her husband a lot of stress and inconvenience.
Feel Free to use our Spam Checker Tool:
We are providing the Spam Checker Tool for your convenience. Here you can enter the email or the contact number that you suspect to be a scam. This tool checks it with our spam database list and ensure you regarding the email or the phone number is real one or the bogus.
Report scam to United States government-you could file a complaint about scam or other crime here.
Related links: