IRS TAX SCAM AKA IRS SCAM
WHAT IS TAX SCAM ?
Millions of people have lost thousands of dollars and their personal information to tax scams unknowingly. The IRS doesn't initiate contact with taxpayers by email, text messages or social media channels to request personal or financial information but the scammers use the regular mail, telephone to set up individuals, businesses and tax professionals. Tax phishing emails pretending to be from IRS can happen at any time. Scam emails of this sort not only look official, but can often look like they've been sent from official government email addresses, making them difficult to find. Scammers sometimes even sign off these type of emails with the name or signature of a genuine IRS employee. The main aim of these emails is to steal money from your bank account, prompt you to send money, or to get enough personal information.
SCAMS TARGETING TAXPAYERS :
The Internal Revenue Service ( IRS ) today warned of an old phone scam where the criminals use telephone numbers that mimic as IRS Taxpayer Assistance Centers (TACs) to trick taxpayers into paying non-existent tax bills. The IRS, the state tax agencies and the tax industry urge taxpayers to remain alert to tax scams, especially immediately after the tax filing season ends. In the latest phone scam, criminals claims to be calling from a local IRS TAC office. Scammers have programmed their computers to display the TAC telephone number, which appears on the victim's Caller ID when the call is made. The criminals hang up for a short time and then call back the second time, and they are able to fake or "spoof" the Caller ID to appear to be the IRS office calling. IRS employees at TAC offices do not make calls to taxpayers to demand payment of overdue tax bills. The IRS reminds taxpayers through regular mail delivered by the United States Postal Service. There are special, limited circumstances in which the IRS will call or come to a home or business, such as when a taxpayer has an overdue tax bill, to secure a defaulting tax return or a defaulting employment tax payment, or during criminal investigations. Even then, taxpayers will generally first receive several letters (called "notices") from the IRS in the mail.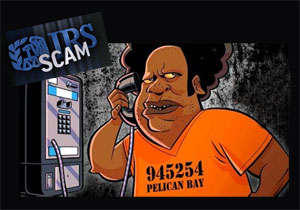 NOTE THAT THE IRS DOES NOT :
* Demand that you use a specific payment method, such as a prepaid debit card. The IRS will not ask for your debit or credit card numbers over the phone. If you owe taxes, make payments to the United States Treasury or review for IRS online options.
* Demand that you pay taxes without questioning or appealing the amount they say you owe. Generally, the IRS will first mail you a bill if you owe any taxes.
* Threaten to bring in local police, immigration officers to have you arrested for not paying. The IRS also cannot revoke your driver's license, business licenses, or immigration status. Threats like these are common tactics scammers use to trick victims into buying into their schemes.

Taxpayers who receive the IRS phone scam or any IRS impersonation scam should report it to the Treasury Inspector General for Tax Administration.
SOURCE OF IRS SCAM :
SCAM – 1 :-
Thane ( India ) IRS Scam : The masterminds involved four other frauds to cheat foreign citizen.
Taxpayers across the country sighed a relief after the arrest of Sagar Thakkar, a 24-year-old Indian man accused of running those Internal Revenue Service (IRS) phone scams. Sagar Thakkar, 24, was detained in Mumbai after arriving on a flight from Dubai. He was the mastermind of IRS scam call centers in the state of Maharashtra and one center in Ahmedabad, said Mukund Hatote, assistant commissioner of police in Thane( north of Mumbai ). News of the scam broke on October 2017 when Indian police raided nine calls centers, eight in Thane in Maharashtra, and arrested around 70 people on suspicion of posing as IRS agents to steal cash from the U.S. citizens. Workers at bogus call centers used American accents to impersonate IRS agents. They told their victims that they owed back taxes and would risk arrest if they hung up or failed to pay up. Thakkar also known as "Shaggy" was one of 61 defendants mentioned in a U.S. accusation exposed last October 2017. The bogus call center workers were accused of stealing from 15,000 people by using the IRS scam and other fraud schemes.
Thakkar had been living a "lavish lifestyle" on the proceeds of the scheme. "We are still investigating the total amount of money collected by Sagar Thakkar," said the assistant commissioner of police in Thane. During the initial stage of investigation, the scammed money was around $300 million. The procedures of this operation appear very similar to those of an IRS impersonation scam.
SCAM – 2 :-
Millions of Americans have fallen for a trick claiming they owe back taxes and must pay immediately. On the other side of the globe, one determined inspector finally delivered justice.
Madan Ballal along room with 48 other officers of the Thane Crime Branch, the criminal investigation wing of the police department in a city on the outskirts of Mumbai, India seized a group of youngsters for making IRS fraud phone calls. The officers told that the offenders were English-speaking Indians who worked in a sprawling network of bogus call centers in western India. They called American citizens, pretending to be officials of the Internal Revenue Service, and demanded immediate payment of tax arrears, threatening imprisonment and deportation. Thousands of Americans had been cheated in the nine months of the network's operation, collectively cheated around $250 million. Ballal, a 45-year-old inspector, did not fully understand how the fraud worked. For six consecutive evenings, the officers arrived at a tea stall under a complex in Mira-Bhayandar, where one of the bogus call centers operated, pretending to be college students looking for jobs. Slowly, they began asking about the call center and confirmed that those luxuries came from working eight hours a day at a desk, by simply calling Americans and reading a script. The call center workers appeared to be confused by the police presence, until Ballal took a supervisor aside and explained that a raid was underway. There were 92 present, including phone operators, supervisors and tech support staff. They were asked to step aside, as Ballal and his team began inspection. First they took down mundane details about computer models, then the names, ages and addresses of each of the employees there, then the questioning began. The suspects began crying. Some said they didn't know what they were doing; some said they were carried away by th e perks. One executive asked earnestly whether scamming Americans was punishable in India; no Indians were scammed. Around midnight, Ballal found a hard drive containing archived tape of previous calls . A database of the records of American taxpayers had been acquired on the black market through partners in the United States. Thus, Ballal arrested those frauds and proved himself an eligible, genuine police inspector.
SCAM – 3 :-
The scammers gaming India's over crowded job market.
In 2017, a call-centre job at a BPO (a business process outsourcing company) has lost value over the years because of poor oversight, and competing markets including the Philippines and US prisons. But still there were job. At the bottom of such job adverts is the name and number of an "HR", a middleman between a jobseeker and a placement agency. One day, Snigdha Poonam, author at Hindustan Times and her colleague called one of them. The middleman wasn't interested in knowing anything about them. He simply told us to expect a text message after the call, and to follow the instructions. The text invited them to an interview at a recruitment office in west Delhi, where they were supposed to hand over the code at the bottom of the message. Their interviewer told them to introduce themselves. And she was confident about offering jobs to them anyway. The text message came in as promised, and directed them to an even more ambiguous address in south-east Delhi for the "training". All they wanted was to start the jobs they had been promised. But they were then led to another floor, divided into groups and sent for a fresh round of interviews. This time they faced actual representatives of companies interested in hiring them. Many jobseekers leave their training with appointment letters asking them to report to work the next week. These letters never mention the name or address of the company. Everyone is told to expect another text message with further details. One young man, Pradeep Saluja, left the building thinking that he was about to start working in customer service for Amazon, as the job ad had promised. When Poonam called him a month later, he told her that the job turned out to be in a small office with a strange name, in Gurugram. He was given a script to memorise and asked to get on the phone, along with 50 other executives of a similar age.The job was easy, he said. All he had to do was call people in the US from a list, introduce himself as Charles, and tell them they were under federal investigation for tax evasion. He told the victims that he was going to transfer the call to a different department, where one of his seniors would help them pay their taxes through an online money transfer. In this way it keeps going. The way to scam Indians at such a scale, apparently, is to promise them jobs, the fulfillment of their most cherished dream. At least some of those responding to ads promising mass openings and unlimited incentives will end up landing a job even if that the job is just to scam other jobseekers.
IRS SCAMMERS ARRESTED IN INDIA :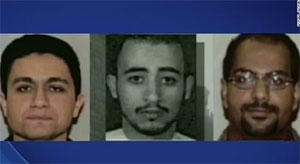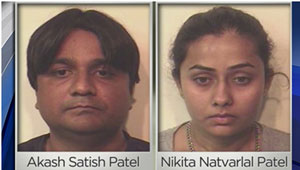 HOW TO DEAL WITH IRS SCAMMERS ?
Stage 1 :- Trying to gain back power by trolling the scammers
The hardest thing about phone scams is that there is little recourse the scammers can take. Even if we don't fall for the scam, they waste our time, over and over again.
Examples of some live-tweeting fraud calls by a genuine tax payer :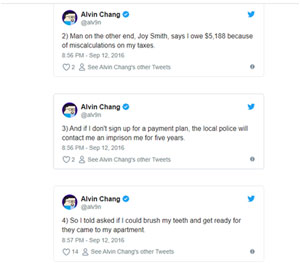 Stage 2 :- Learning how they create and influence authority
There are many flaws to this scam. One is that it is almost always an Indian man in a call center, which made it hard to believe their names were "Steve Smith" and "Joy Smith." The other is that they clearly read off a script, and were trying to get through their lines as fast as possible. We could hear the steady hum of their colleagues doing the same.
In short, they ( frauds ) professionalized the scam. They found ways to implicitly suggest.
Stage 3 :- Force them to come up with an end game
Try to make them show some kind of indication thet they are aware of what he / she is doing. Make them elicit some kind of guilt.


Stage 4 :- Justice, maybe
They might get caught. We couldn't stop reading news stories because it is an ongoing operation. Let us assume that all those IRS scammers will be hanged by our government officials as soon as possible.


HOW TO REPORT IRS SCAMS ?
1 :- Flag emails from the IRS asking for your personal information :
If you receive an email claiming to be from the IRS that requests your tax information, your banking information, or any other personal information, it is likely a scam. Do not open any attachments in the email or click on any links in the body of the email. Rather than respond to the email, take a screenshot of it and delete it.
• You can then use the screenshot to report the email to the IRS as a scam.


2 :-Record the employee's name and badge number if you get a suspicious phone call :
If you get a phone call from someone claiming to be from the IRS and they ask you for personal information or tax information over the phone, it is likely a scam call. Rather than provide any information over the phone, ask the person for their name, badge number, and their call back number.
• You can then use this information to look up the person through the IRS to confirm whether they are legitimate or they are a scammer.
• The IRS will ask you if you will accept a call back to your number. A person who is pretending to be the IRS will not do this and demand information in the moment instead.


3 :- Check the information on a letter or notice through the IRS home page :
If you receive a letter or notice asking you to fill out a form or provide your personal information, do not respond to it without checking it first. Look for forms on the IRS home page to confirm the instructions and forms are the same as on the website. If the forms or instructions do not match, do not respond to the letter. Scammers will often modify real IRS letters to try to rip people off.
• Keep the letter or notice so you can refer to it when you report the scam to the IRS.


SAMPLES OF SOME TEXTS RECEIVED AS COMPLAINTS REGARDING IRS SCAM :
TEXT 1 :-
" Received call from 203 441 7004 claiming an arrest warrant from IRS was issued for me. "


TEXT 2 :-
" Tried 3 times, call goes through the all you hear is a lot of people talking in the background. Called a fourth time to be told it was the IRS, when I questioned him on the authenticity he hung up on me, called 3 more times only to be answered and immediately hung up on, called for the eighth time and a woman answered, told her of the phone calls, she said they are from the IRS and I better take it seriously, when I asked for a English speaking person with now foreign accents she to hung up on me. Thank you "


TEXT 3 :-
" Be advise phone calls that say they are with the IRS and say this "That you will be taking under custody by the local cops as there are four serious allegations pressed on your name at this moment we would request you to get back to us so that we can discuss about this case before taking any legal action against you the number to reach us is 719-505-9513 I repeat 719-505-9513 thank you…" It's a scammer. IRS don't put warrants for your arrest if you don't pay nor would they call you regarding a pass due payment I am an employee for the IRS. When a IRS employee makes contact on the phone with a taxpayer they will ID themselves by name and 10 digit employee number. I did forward this voicemail to the appropriate department in the IRS but I don't think it will not be investigated properly. About 3 months ago I was getting phone calls by these scammers and forwarded it but did not hear anything about it. "


TEXT 4 :-
" Hello, I received a call from this number and I didn't answer because I don't answer calls I do not know . So , I got a voicemail saying I have a warrant out for my arrest and I have to call that number back in order not to have a warrant against me . I called he number back and the phone started beeping and saying it was discounted . I did some research and Read that the IRS will never call you and will send you a notice in the mail. Please warn people about this number !! THANK YOU! "


TEXT 5 :-
" I received a call from 407-330-4506 stating that I was being prosecuted for IRS fraud and a warrant was being issued. Left message to call 818-476-7674. Any assistance would be greatly appreciated. "


TEXT 6 :-
" Says it's the irs and that they have been trying to get a hold of someone for 6 months very broken recording called back number rang 8 times then an actual person answered. "


TEXT 7 :-
" I received calls from this number on both my cell phones today at 8:35 and 8:36am. Both times were robo calls; a recorded message that informed me if I didn't return the call: the IRS, case against me would go to court and if I didn't call them immediately two "cops" would show up at my door. Thank you for any information you can provide. "


TEXT 8 :-
" They are claiming I owed the IRS money since 2010 and threaten to put me in jail if I don't' resolve and settle the issue today. When they asked me to pay by today, or the court is going to arrest me today. I became suspicious, and hung up the call. Then they tried to call from all these # from Male and Female, local and Florida. Please verify and file to your database, if those are scam phone.
Thank you!
Mars "


TEXT 9 :-
" I received a call from these people, saying it's my final notice before arrest warrant blah blah blah. It's a scam, especially since I'm up to date on my taxes and there are absolutely No Miscalculations! Anyways, thank you for your time. Here is the number plus a blotchy transcript. They hung up when I mentioned I wasn't aware the IRS issued arrests for unpaid or miscalculated taxes. Lol "


Feel Free to use our Spam Checker Tool
We are providing the
Spam Checker Tool
for your convenience. Here you can enter the email or the contact number that you suspect to be a scam. This tool checks it with our spam database list and ensure you regarding the email or the phone number is real one or the bogus.
Report scam to United States government-you could file a
complaint about scam
or other crime here.
Related links: