Investment scam
otherwise known as security fraud and stock fraud are often illustrated to get investments from solicited investors who take the chance on the basis of
false information
provided by scammers about company's financial reports.
Following are the case studies and PDFs based on the investment scam scheme and its different types. A list of various Government and Education sites has been given that fight back against such scams.
Presentations :
PDFs :
Case studies on investment fraud :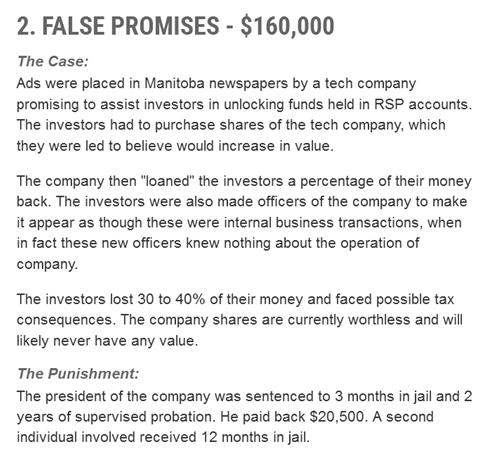 Reference :
Websites fighting against Investment Scam:
1.
SEC Gov - Investors Alerts and Bulletins
The SEC's Office of Investor Education and Advocacy provides a variety of services and tools to address problems you may face as an investor. Investor Alerts, focused on recent investment frauds and scams, and Investor Bulletins, focused on topical issues including recent Commission actions, are provided as a service to investors.
2.
SEC Gov - Social Media and Investing Avoiding Fraud
The SEC's Office of Investor Education and Advocacy is issuing this Investor Alert to help investors be better aware of fraudulent investment schemes that may involve social media. U.S. retail investors are increasingly turning to social media, including Facebook, YouTube, Twitter, LinkedIn and other online networks for information about investing.
3.
Investor Gov - Avoid Investing Fraud
Research before you invest! Unsolicited emails, message board postings, and company news releases should never be used as the sole basis for your investment decisions. Understand a company's business and its products or services before investing. Look for the company's financial statements on the SEC's EDGAR filing system.
4.
Money smart - Investment Scams
A phone call or email 'out of the blue' offering you a not-to-be-missed investment opportunity could be a turning point in your life. If you say 'yes' to the deal and the offer is a scam, you could lose thousands of dollars or end up with enormous debts.
5.
Stop fraud - Protect Security
Investment Fraud also covers a wide range of illegal activities, all of which involve the deception of investors or the manipulation of financial markets. Scammers often try to make a new venture sound like a sure-fire money-maker, but investments always involve risk.
6.
USA Gov - Scams and Frauds
Investment scams prey on your hope to earn interest or a return on investment on the amount of money that you invest. The Securities and Exchange Commission (SEC) offers overviews of many common investment frauds, and tips to avoid being a victim.
7.
Scam watch - Investment Schemes
The investments offered in these types of cold calls are usually share, mortgage, or real estate high-return schemes, options trading or foreign currency trading. The scammer is operating from overseas, and will not have an Australian Financial Services license.
8.
UK Gov - Tackling Tnvestment Schemes
A significant proportion of our investigation and enforcement work is aimed at tackling the perpetrators of investment scams.
9.
DFI Gov - Social Network Scams
Social networking in the Internet age allows people to connect to one another more quickly and easily than ever before. Investment promoters increasingly are logging on to find investors and their money.
10.
AG Gov - Common Investment Scams
Scam Artists use investment seminars and pose as financial planners offering appealing and farfetched investment advice to the unsuspecting investor. Much of the advice they give during these seminars may require them to be licensed or registered and they may fail to disclose conflicts of interest, as well as hidden fees and commissions.
11.
FBI Gov - Trading Investment Scams
In general, investment programs that purport to offer an introduction to secret investment markets, which offer above-market rates of return with below-market rates of risk for privileged customers with special access, are fraudulent.
12.
DBO Gov - Senior Against Investment Fraud
The California Department of Business Oversight's Seniors Against Investment Fraud (SAIF) program, established in July 2001, alerts and educates Californians over the age of 50 about financial and investment fraud, common scams, and unscrupulous sales practices that specifically target seniors. SAIF exists because seniors are prime targets for financial fraud and scams. The goal of the SAIF program is to empower seniors to make informed decisions about investments and finances.
13.
Treasury Direct - Treasury Direct
If the deal seems too good to be true, it probably is. If you have an offer of assignment or to rent or lease a U.S. Treasury security for a certain period, it is, in all likelihood, bogus.
14.
Crime Commission - Organised Investment Frauds
Serious and organized investment frauds—colloquially known as 'boiler-room' fraud due to the high pressure sales tactics used—are usually initiated by telephone cold calling of potential victims. The people targeted are subjected to persuasive techniques to identify their financial status and then encouraged to transfer money into sham or worthless investment frauds.
15.
FCA Org - Investment Scams
Investment scams can look and sound believable, with smooth-talking salespeople, slick websites or sophisticated brochures and prospectuses. This can make it hard to tell them apart from genuine investment opportunities. But there are ways to spot and avoid scams.
16.
SFO Gov - Investment Fraud
Investment frauds target individuals. The fraudsters use convincing arguments to make people part with their savings. These types of fraudsters usually want you to invest your money in a company or an opportunity which seems to be offering very high rates of return.
17.
British Columbia Gov - Financial Investment Fraud
Many people lose their savings to high-risk or fraudulent investments. Protect yourself: get investment advice from trusted sources, ask questions, and be sure you understand the risks. Remember, it never hurts to get a second opinion.
18.
USCIS Gov - Investor Alert
The U.S. Securities and Exchange Commission's Office of Investor Education and Advocacy and U.S. Citizenship and Immigration Services are jointly issuing this Investor Alert to warn individual investors about fraudulent investment scams that exploit the Immigrant Investor Program, also known as "EB-5.
19.
Consumer Investment Scam
Scammers typically offer 'get rich quick' schemes, investments-based on 'secret' information or special software. They claim to be able to predict the outcomes of sports or share trading. After you pay their expensive fees, you will discover that their claims of past performance and guarantees about future results are false.
20.
Stop Fraud Colorado
Our aging populations are often specifically targeted by those seeking to perpetrate investment crimes and the resulting losses to retirement funds and life savings can be catastrophic.
21.
Investment Threads
The popularity of investments involving distressed real estate continues throughout the boom and bust cycle in the U.S. housing market. Even as housing prices continue to recover in many U.S. markets, investors should be aware that schemes related to new real estate development projects or buying, renovating, flipping or pooling distressed properties are popular with con artists.
22.
Fraud Org - General Investment Frauds
Whether you have a little money or a lot, you'd probably like to have more to "feather your nest." But your money could fly away if you get caught in an investment scam.
23.
Justice Gov - Insurance Policies
San Diego Man Who Ran Investment Scam That Promised 'Reverse Life Insurance' Policies Sentenced To Over 10 Years in Federal Prison.
24.
CAD Gov - Boiler Room Scam
Boiler-rooms are high-pressure phone sales operations by salesmen who may make repeated calls offering the sale of shares investments in third party businesses.
25.
OnGuardOnline - Article Investment Scheme
Be skeptical of any investment pitch that insists you act now, that guarantees big profits, that promises little or no financial risk, or that demands you send cash immediately.
Feel Free to use our Spam Checker Tool
We are providing the
Spam Checker Tool
for your convenience. Here you can enter the email or the contact number that you suspect to be a scam. This tool checks it with our spam database list and ensure you regarding the email or the phone number is real one or bogus.
Report scam to United States government-you could file a
complaint about scam
or other crime here.