Spammers collect e-mail addresses from customer lists, websites, newsgroups, chat rooms and viruses which gather users' address books, and are sold to other spammers.
There are some of the scam related issues:
Unsolicited bulk e-mail (UBE)
Unsolicited commercial e-mail (UCE)
419 Scams
Phishing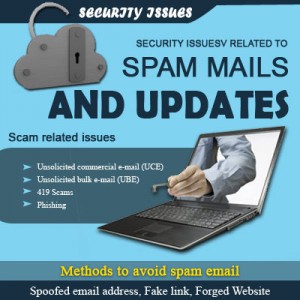 Whenever new security updates are issued, we provide access to these so that we can update software to provide better security on computer. Use free scam checker tools to keep your scam emails out of your inbox. Lots of junk mail is sent to different recipients.
Security researchers at Palo Alto Networks, the Silicon Valley-based security firm, have been tracking a series of cyber attacks affecting clients based in Taiwan and South Korea. Once clicked on the attachment victims download the malicious tools on their devices.
Do not respond to respond to emails asking for accounts, password, banking and credit card information.Make sure you have password on your computer and files. Do not respond to text messages or voicemails that ask you to call a number.
Three methods to avoid whenever you receive an email:
·         Spoofed email address
·         Fake link
·         Forged Website