Female Scammer Marina Ponomarenko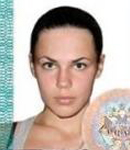 Female Scammer Marina Ponomarenko
E-mail:
materots2005@yahoo.com
Scam Danger:
85%
Details

First Name:
Marina
Location [Address]:
Novosibirsk
Age:
32
Birth Date:
23-07-1983
Aliases:
Reports :
Letter 1
Doug HELLO! excuse me that I could not write to you earlier.....
I'm writing to you as soon as I can!!!!!! I was busy with many
arrangements!!!!!!!!!!!!!!!!! also I had to repeat some words
for my English test and I finally passed my test today morning!!!
today I was in the travel agency and I received an information about my trip!
I will be very thankful to you if you can meet me at the Airport!


I will arrive to you on Tuesday, 7 July
I shall inform number of flight, the terminal and an arrival time
probably Monday or on Sunday.
more in detail look at the end of the letter. I copied the information of agency


I hope so much it's a good day for you to meet me!


I am so glad to see that we are almost near our goal,and our meeting
wait for us. I think I will call you from airport before my flight..
You know I booked tickets on Tuesday, 7 July flight and I will buy them before
my intervew. People from embassy must be sure that I am not going to stay illegally,
so I need to buy roundtrip tickets (with returning date).
I wanted to ask you about electronic tickets but they tell that
I can't use because it is their businees to arrange all travel details
and they have some extra money from all the things,
you see it is just business.I think that you will be able to help me
because I don't know anybody here and only you are my hope now,
I think everything in your hands and I believe that you will not leave
me here alone.please borrow some money. I am sure I will be able to return all your money
back after a few weeks, I will get salary and I will collect the sum I own from you.
To be fair I am not sure I know what to say because I hate to ask but
now I have no different way, you see.Please help me it is only money
and much more important if we will meet in person I will do my
best, you won`t be disappoined. I see that it sounds a little crazy
but I can't believe that in the worst case I have to return
home,they all will laugh at me.I think it rests with you to decide and I feel that
you will help me because you are kind. I have about 300 US dollars yet and I think
I need about 980 US dollars from your side with all travel needs and living here till my
flight! (I had 1180 dollars, but flight from Nowosibirsk, opening visa, medical
insurance and all travel needs costed about 800 dollars).
For truth I did not expect I will need to buy roundtrip tickets, but now
I see that its a very strict rule.
I was sure that my mom will help me becasue she promised but now she
sent letter that it is possible only in a few months or so because of
family problems.and she can't send transfer now.I was in the bank to
try to ask them about loan but they tell I have to have something to stay them
and I have nothing to stay because I have only a few
dress and things,some perfume and it is all I have,and small gift for you from
russia with love.


please send it today by Western Union or Money Gram
I will write you details:
!!!
send it to russia, Marina Ponomarenko !!!!This is my full name!


Also I've got an advice to send you a scan copy of my passport
in case you need to confirm my details.


this is my full name used in all official documents. They said this is all info you need.
But please for any case write down more info. The address where I'm staying:
Petrozawodskaja street, 26 - 4, post code (zip) 125414. I rent a small room In an apartment of an old policeman here, it's
cheaper then hotel.The address of the closest Western Union (or MoneyGram) here is:


"SBERBANK" moskov, petrozawodskaja 8 post code 125414

I have some money but it's not enough to complete my trip.
Please send me 980 US dollars and I will complete my trip!
After it please write me all details about the transfer -


your FULL NAME and Money Transfer Control Number.!!


I will call you as soon as I receive it.
When I receive the money I will pay for my trip and only then
the embassy will put all final stamps on my documents.
I've bought you few souvenirs with Russian attributes!!! I'm
sure you will like them! If you need something more please let me
know, they are not expensive. Also I bought two boxes of Russian
chocolate! I hope so much when I come to you we will like each other!
You are already very special to me!
Please when I come to you tell me more about you and your country!
I will listen to everything you tell me and I will do everything you
tell me! I trust you really much!
I hope you will not do something to hurt my feelings.... I
think you are really good man. I will never do anything to hurt yours!!!
By statistics Moscow is the second most expensive city in the
world after Tokyo... everything is so expensive here... and I have
to pay for my rent and food and buy tickets.. please help me..
Sorry if I missed something or didn't comment please let me know
I was so busy with with all preparations!!!!


Marina

------------------

> TRAVEL INFO : Marina Ponomarenko
> -----------------------------------------------------------------------
> ? Travel Agency "SXO-Travel".
> -----------------------------------------------------------------------
> TRAVEL INFO : Marina Ponomarenko - private tour.(work visa)
> Russian-English
> variants.ENGLISH SPEAKING GUIDE
> -----------------------------------------------------------------------
> Travel dates for: Ms. Marina Ponomarenko
> Please label the inside and outside of each piece of baggage to
> be checked in with your name and where possible your address.
> Suitable baggage labels and
> stickers are available free of charge. In advance of your journey.
> please note the current free baggage allowance included in your
> ticket price. You can find this information in the internet or via
> your Airline contact
> person. In case you booked a special fare please note that it can
> be subject to restrictions. Travel Abroad: When preparing to travel
> abroad for less than 5 months,
> it is important to ensure entry to another country . Depending on
> the country to be visited and the worker's nationality, it may be
> necessary to apply for a
> visitor visa.The worker must have: a valid passport or travel
> document, valid
> visa .
> Furthermore, page 4 must be signed by the RO. No special
> permission is needed, but it is important to have a valid
> passport,valid visa and all travel documents.


> Thank you for your booking and have a pleasant journey. Kind
> regards."SXO-Travel" is a licensed and officially registered travel agency.
> Travel agency "SXO-Travel".


> Our goal is to provide quality services for group and individual
> travelers.
> -------------------------------------------------------------------------
> Please use our service. managers: Anna
> -------------------------------------------------------------------------
> The nearest possible flight is - Tuesday, 7 July
> 2009. From Russia, Moscow,Sheremetyevo Inter Airport.
> Price: foreign passport,visa,tax,consulate fee,ticket Eco.class.USD
> 1280.00+
> -------------------------------------------------------------------------
> This reservation will be automatically cancelled if the order is not
> purchased until Monday, 6 July 2009.